Global spending on all aspects of the Internet of Things (IoT), including hardware, software, services, connectivity and security, is expected to soar to $1.4 trillion within the next five years, according to new numbers from IDC.
Between now and 2021, companies that are in heavy-industry manufacturing, as well as specific vertical industries including utilities, transportation, smart grid and smart buildings, are driving the market for these IoT devices, software and services.
By the end of this year, IoT spending is expected to grow more than 16% compared with 2016, and total over $800 billion. That number will swell to $1.4 trillion by the end of 2021, according to IDC's June 14 report.
During 2017, the manufacturing sector will spend the most on IoT -- $183 billion -- followed by transportation at $85 billion and utilities at $66 billion.
Since industries such as manufacturing and utilities have facilities with numerous physical assets, they stand to benefit from connecting those devices to a network and have invested more in IoT than other industries, said Marcus Torchia, research director for IDC's Customer Insights & Analysis, in an email to Enterprise Cloud News.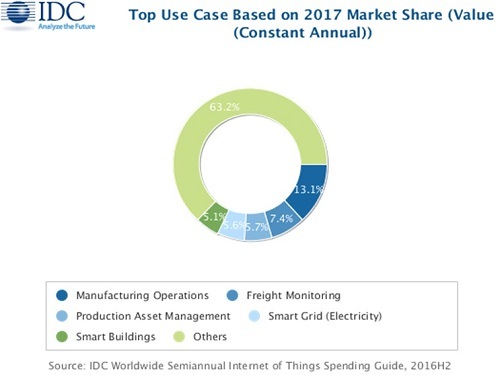 "They have the requisite infrastructure (device and network connectivity) to use software to better manage and optimize their mission and business critical assets. Make no mistake that manufacturers and utilities have been using telemetry for decades so they are more mature in their understanding and use of connecting assets," Torchia wrote.

To help underscore that point, earlier this week, GE, which has moved aggressively into industrial IoT as well as the industrial Internet, announced new analytics to make the maintenance of factories more predictable and to better analyze the data sensors pick up. (See GE Wants to Make the Industrial Internet More Predictable.)

The other area seeing large investments in IoT is what IDC calls cross-industry IoT investment, which includes connected vehicles and smart buildings. Within this market, spending will hit $86 billion by the end of this year, the researcher estimates.

Consumer spending on IoT -- think smart homes -- will top $62 billion this year, but is expected to grow into one of the top three segments by 2021.

Digging into the numbers, IDC finds that businesses and consumers will continue to spend the most on hardware -- modules and sensors that connect end points to different networks -- during the next five years. However, spending on software and analytics will actually grow the fastest between now and 2021 with a compound annual growth rate (CAGR) of 29% and 20.5% respectively.

"The sensors become commoditized over time," Carrie MacGillivray, vice president for IoT & Mobility at IDC, wrote in an email. "The value is derived from the software and services."
---
M&A activity is turning the cloud upside down. Find out what you need to know in our special report: Mergers, Acquisitions & IPOs are Rocking the Cloud.
---
At the same time, spending on hardware security will increase at a CAGR of 15.1%, and spending on security software will increase at a CAGR of 16.6%.
While manufacturing, freight, production asset management, along with smart grid and smart building technologies, will see the most investments between 2017 and 2021, the fastest growing areas during this time will include airport facilities and automation -- 33.4% CAGR -- electrical vehicle charging -- 21.1% CAGR -- and in-store marketing -- 20.2% CAGR.
The Asia Pacific region (minus Japan) is expected to spend the most on IoT between now and 2012, with a total of $455 billion in investments. After that region, the United States will spend $421 billion and Western Europe will invest $274 billion. All three regions will spend the most within the manufacturing sector.
In his note, Torchia noted China is driving the majority of IoT investments in Asia and these are tied to the country trying to stimulate the economy, while addressing the needs of a growing middle class.
"IoT as a technology juggernaut is considered a key enabler for future economic productivity and efficiency, as well as a means to provide consumer products and services for a burgeoning middle class," Torchia wrote. "China, no longer the low cost producer country in-region, now faces competitive pressures like industrialized countries have experienced for decades. The main drivers then are macroeconomic mainly but followed by industry productivity and consumer lifestyle desires."
Latin America, the Middle East, Africa and Central and Eastern Europe are all expected to see IoT spending increase by a CAGR of more than 20% between now and 2021, according to IDC.
Related posts:
— Scott Ferguson, Editor, Enterprise Cloud News. Follow him on Twitter @sferguson_LR.