SAN FRANCISCO -- Google Next 2018 -- Google is extending AI and machine learning to Internet of Things gateways and connected devices to make IoT applications more smart, secure and reliable. New technology introduced Wednesday includes Edge TPU, a purpose-built ASIC chip to run TensorFlow machine-learning modeling on edge devices.
Cloud IoT Edge extends Google (Nasdaq: GOOG) Cloud's AI to gateways and connected devices. It runs on Android Things or Linux-based operating systems, and has two runtime software components: The first is Edge IoT Core, to securely connect edge devices to the cloud, enabling software and firmware updates and managing exchange of data with Cloud IoT Core. And Edge ML uses a TensorFlow Lite running pre-trained machine-learning modules locally, to significantly reduce latency and increase versatility of edge devices.
On the hardware side, the Edge TPU is a purpose-built ASIC chip designed to run TensorFlow Lite ML models at the edge, complementing Google's Cloud TPU, which accelerates ML training in the cloud.(See Google Gives Cloud Apps a Hardware Boost.)
"Your sensors become more than data collectors -- they make local, real-time intelligent decisions," Antony Passemard, Google head of product management for Cloud IoT, said in a presentation for press on the announcement Tuesday evening.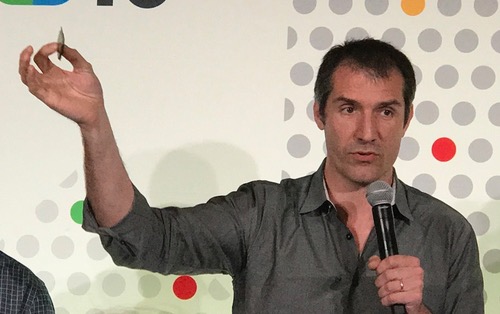 ---
Now entering its fifth year, the 2020 Vision Executive Summit is an exclusive meeting of global CSP executives focused on navigating the disruptive forces at work in telecom today. Join us in Lisbon on December 4-6 to meet with fellow experts as we define the future of next-gen communications and how to make it profitable.
---
Google will launch an Edge TPU module development kit in October to get developers started building IoT solutions with the new chip.
Cloud providers are scrambling to develop their machine-learning platforms as competitive tools to help enterprises get more intelligence from their data and IoT devices. Amazon Web Services Inc. launched the SageMaker service late last year, to simplify ML, with additional tools to accelerate the process revealed this month. (See Amazon Brings Machine Learning to 'Everyday Developers' and AWS Speeds Up Machine Learning & Deepens Natural Language Recognition.)
And Microsoft Corp. (Nasdaq: MSFT) launched Project BrainWave, a deep learning acceleration platform, last year. (See Microsoft's 'Project Brainwave' Details Ambitious AI Plans.)
Related posts:
— Mitch Wagner




Executive Editor, Light Reading