BARCELONA -- As the number of connected devices increases, processing at the edge of the network becomes as important as connectivity, especially in critical applications such as connected and autonomous cars.
Edge computing, along with the analytics that companies can glean from that information, were two of the main highlights at this month's IoT Solutions World Congress held here.
Many Internet of Things (IoT) devices and sensors can provide computing capabilities, offering on-the-spot decisions. Cloud connectivity can be used to analyze the collected data and provide additional processing and storage.
One example of a mixed solution of cloud and edge processing is the contactless cards being used for public transport in many cities throughout Europe.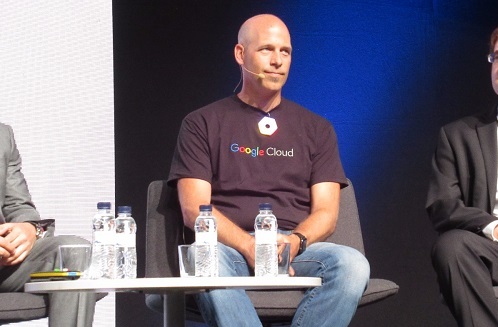 NFC cards that customers load with money to pay for fares have been available in cities for years. Several cities, including London, now let users access contactless bank cards -- debit or credit -- in a similar way. Transport providers are interested in the bank card system because it reduces the cost of installing and maintaining top-up machines and handling cash.
Because of the need for fast transactions on public transport, authorizing the bank cards is done at the NFC sensor when someone enters the station through a combination of cloud processing and edge computing.
The cards are authorized on the fly by a simple check of validity the first time they are used, and then the system allows the passenger to proceed. Later, after the journey is completed, the total fare is sent to the cloud where it charges the passenger's account.
During the show, several of the world's top IoT providers, including Microsoft and Huawei, spoke about the importance of edge computing and the cloud.
Google, which has been busy promoting its own cloud platform as important enterprise players, was also on hand to promote its various services, as well as the company's vision for the future development of IoT. (See Google's Pichai: Cloud's One of Our 'Biggest Bets'.)
Preston Holmes, head of IoT Solutions at Google Cloud Platform, told Enterprise Cloud News how the cloud is helping to leverage the enormous amount of information collected by billions of connected devices. He mentioned that the cloud is "extending the reach of collected data" since cloud processing can provide the analytics to make sense of it.
---
Keep up with the latest enterprise cloud news and insights. Sign up for the weekly Enterprise Cloud News newsletter.
---
When speaking of edge computing, Holmes noted that the "edge is not an either/or decision," and in many places, the solution is "cloud first with a local fallback."
Indranil Chakraborty, the product manager for Google Cloud IoT Core -- the company's new management platform for connected devices -- noted that Google is eager to see how this new service is helping customers develop their own products and services.
During its last three months of closed beta testing, Chakraborty said that Google has received numerous requests from customers for access. (See Google's Cloud IoT Core Platform Moves to Public Beta.)
Google selected a handful of customers in different industries to run trials. Chakraborty mentioned examples such as Smart Parking in New Zealand, which provides technology to parking providers and cities. The firm deploys highly accurate parking sensors, which send data to the Google Cloud Platform. In this way, Smart Parking can notify drivers which parking spots are available. Analytics tools at Google Cloud also help cities with traffic management.
When talking about edge computing, Chakraborty agreed that on many occasions it is necessary to have local, fast processing. He pointed to Android Things as Google's solution to provide a working operating system for IoT devices that need instant delivery of computing power.
"There are use cases where latency is [important], where you need 500 milliseconds latency, or regulatory reasons because the data cannot leave the local premises," Chakraborty said. "Google has Android Things as operating systems, which can be run on any edge gateways. We partner with companies such as Intel and NXP, which are using Android Things as OS on edge gateways."
Obviously, edge computing can be a double-edged sword, because security can be an issue.
Billions of devices can be compromised, as happened last year with Mirai, one of the most popular pieces of "open source" malware used for DDoS attacks, which could be easily installed in many IoT connected devices. (See How Secure Are Your IoT Devices?)
At the same time, processing at the edge can also increase security, as most of the collected data is processed locally and never sent to the cloud, where it can be compromised.
Equally, the use of containers helps local processing in the cloud.
In the way that "virtual" resources were created to simulate underlying physical hardware, enabling multiple applications to run concurrently, containers create the perception of a fully isolated and independent system to the application. Using containers, such as Docker and Kubernetes, can deliver customized intelligence on specific datasets, without interfering with the rest of the system.
With the number of IoT devices still growing exponentially, it is clear that a combination of cloud and local processing will be one of the main solutions for many applications.
Related posts:
— Pablo Valerio is a technology writer and consultant working out of his home city of Barcelona, Catalonia. Follow him on Twitter @Pabl0Valerio.