Investors Jumpy Over Juniper Q1 Outlook

Comment (2)
Juniper had another rough quarter in Q4 with revenue dropping 10.5% to $1.24 billion, thanks to continued architectural shifts in the cloud segment of the company's business.
The Q4 performance was nothing, however, compared to Juniper Networks Inc. (NYSE: JNPR)'s lowering of expectations for Q1 of 2018. Analysts had been expecting a projection of $1.15 billion in revenue for the first three months of the year, and earnings of $0.42 per share according to Thomson Reuters. Instead, Juniper said on its earnings call that it's now predicting only $1.05 billion in revenue for Q1 and EPS of $0.25. (See Juniper Down 11% Year-Over-Year in 4Q 2017 to $1.24B.)
The company's share price tanked more than 9% on the news in after-hours trading.
Juniper executives continue to describe the company's financial troubles as transitory, noting that it expects to recover year-over-year growth by the end of 2018. CEO Rami Rahim is also adamant that Juniper's misfortunes are only a result of customer strategy adjustments and not of competitive pressure from rivals, which include Arista Networks Inc. and Cisco Systems Inc. (Nasdaq: CSCO).
"This is not about a loss of share or footprint to the competition," said Rahim on the latest earnings call.
Analysts are not so sure, however. In a note from Jefferies & Co. Inc. , analyst George Notter says, "It's interesting that Juniper only started to experience these architectural changes just in the past 2 quarters," referring to the customer shifts that Juniper cites as impacting its business.
Notter adds, "Moreover, it's clear that Arista's R-series products are gaining traction in the marketplace. Contrary to the Juniper view, we suspect these trends won't get resolved in the near term. More likely, these impacts seep into other customer verticals as well."
Despite that analysis, Juniper continues to reiterate that it remains committed to all of its verticals, which include cloud companies, telecom/cable carriers and strategic enterprises. Among the company's top ten customers today, five are in the cloud sector, four are in telecom/cable and one falls in the strategic enterprise category.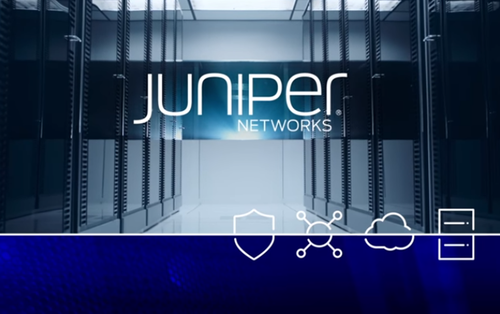 On the bright side in the telco sector, Juniper says it's continuing to experience momentum with its Contrail SDN platform and has signed two new Tier 1 carriers as customers in Europe in Asia. CFO Ken Miller says the move toward cloud-oriented architectures in the telco space is a positive sign for the company, although he doesn't expect any breakout growth in the sector in the near term.
In the enterprise space, Miller says Juniper is pleased with its recent progress including successful efforts to expand its customer base. He adds that in the future Juniper believes there is opportunity to maintain or even increase momentum in the sector specifically with solutions that address multi-cloud management and security.
Meanwhile, there has been some debate that Juniper might participate in a merger or acquisition in order to bolster its stance in the networking gear market as a whole. Rahim wouldn't provide any further detail on December reports that Nokia Corp. (NYSE: NOK) was considering a buyout of Juniper, but he did note that, "I have been consistent in saying that we will continue to look for value-enhancing M&A."
— Mari Silbey, Senior Editor, Cable/Video, Light Reading
PARTNER PERSPECTIVES
- content from our sponsors
GUEST PERSPECTIVES
- curated contributions