VMware Launches Amazon Cloud Support
LAS VEGAS -- VMworld 2017 -- Enterprises dreaming of running VMware workloads on Amazon Web Services are getting their wishes granted as the two companies fulfill a partnership they announced in October.
VMware announced full availability of VMware Cloud for AWS on Monday, after the two companies debuted the service last fall and said it would be available in the summer of 2017, noted Mark Lohmeyer, VMware vice president of products, cloud platform, at a press conference at the conference here. (See Enemies No More: Amazon & VMware Partner on Cloud.)
"Landing here today it was 113 degrees," Lohmeyer said from a Las Vegas stage. "I think we can say it's still summer. So we hit our date."
VMware Cloud for AWS is available to customers worldwide, running initially on the AWS US West Oregon Region, expanding to other regions around the world in 2018, Lohmeyer said.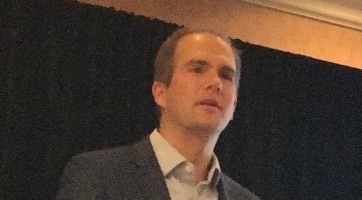 The service -- sold, operated and supported by VMware -- provides VMware Software Defined Data Center (SDDC) infrastructure running on AWS elastic bare metal, Lohmeyer said. It runs vSphere, VSAN and NSX.
VMware Cloud for AWS has "all the same characteristics that customers trust using VMware on-prem, but it's also elastic," Lohmeyer said. As enterprises require more capacity, they can add more AWS infrastructure through APIs. Payment will initially be available on-demand on an hourly basis, with a one- to three-year subscription plans to come.
Enterprises can run their entire VMware infrastructure in the cloud, or in a hybrid model mixing on-prem and AWS, Lohmeyer said. Hybrid enterprises will get a single view of private and public cloud resources, with a consistent operational model, moving workloads from the private cloud to the AWS public cloud as needed.
VMware enterprises also get direct access to native AWS services. For example, workloads running on VMware can augment and extend with Aurora, Lambda and other AWS services, Lohmeyer said.
VMWare Cloud for AWS has been in beta with about 50 customers and partners for five to six months, Lohmeyer said. Customers were looking to extend their data centers in some cases, and in other cases to consolidate and close data centers and move to the public cloud without having to change procedures and operations. Some also sought to build new, cloud-native apps.
As part of VMware Cloud for AWS, VMware is working with infrastructure software providers, including CA, Puppet, Splunk, Rackware, Fortinet, McAfee, Dell EMC and more.
VMware launched a cloud partnership with IBM Cloud at VMworld almost exactly a year ago, with the Cross-Cloud Architecture. (See VMware Seeks Cloud Dominance by Building Bridges.)
The IBM and AWS services differ in that IBM is the one supporting the IBM cloud version, whereas VMware itself supports the AWS version, said Erik Frieberg, VMware senior VP product and portfolio marketing. (See IBM, VMware Cement Cloud Partnership.)
VMware also said last year it would support Microsoft Azure and Google Cloud with its Cross-Cloud Architecture; we're still looking for details of VMware's current status and plans for those cloud platforms. VMware's goal is to support all major clouds, Frieberg said.
The VMware-AWS partnership is a step in an overall trend as enterprise vendors look to extend to the public cloud, and public cloud providers look to get a foothold on-premises.
Cisco and Microsoft, for example, are taking their own steps to bridge public cloud and on-premises infrastructure. (See 'Hey! You Got Public Cloud on My Premises!')
Also on Monday, VMware launched a suite of services to help enterprises manage and secure software across multiple clouds. (See VMware Debuts Multi-Cloud Management Services.)
Related posts:
— Mitch Wagner
Editor, Enterprise Cloud News
---
CALLING ALL CLOUD, NFV AND SDN COMPANIES: Make sure your company and services are listed free of charge at Virtuapedia, the comprehensive set of searchable databases covering the companies, products, industry organizations and people that are directly involved in defining and shaping the virtualization industry.
---