VMware Broadens Private Cloud, Amazon Support
VMware is advancing its hybrid cloud strategy, rolling out tools to help companies operate private managed clouds and strengthening its ties to Amazon Web Services, the company said on Wednesday.
Traditional IT vendors including VMware, Cisco, Dell (which owns 80% of VMware) and Hewlett-Packard Enterprise are threatened by the migration to public cloud, as enterprises that have gone 100% public cloud don't need to buy those companies' products to run on-premises. The vendors have all adopted variations on a hybrid cloud strategy, enabling enterprises to run the vendors' technology on-premises and bridge to public cloud. (See Cisco's 'Network Intuitive': A Risky Transition, AWS & VMware Vs. Cisco & Google: A Cloud Fight Worth Watching and Cisco, HPE, Dell EMC Fighting for Cloud Infrastructure Dominance.)
VMware Inc. (NYSE: VMW) extends its virtualization tools from the data center to the public cloud, particularly Amazon, with which it struck a partnership last year. (See VMware & Amazon Grow Hybrid Tie-Up to 'Very Large Scale' and Following Amazon Partnership, VMware Is a Cloud Company Now.)
On Wednesday, the company introduced VMware Hybrid Cloud Extension Service for Private Cloud, a software-as-a-service (SaaS) offering to migrate vSphere workloads between on-premises and remote, managed data centers. VMware previously offered Hybrid Cloud Extension Services for mobility between both IBM Cloud and VMware Cloud on AWS. (See VMware Expands Multi-Cloud Portfolio.)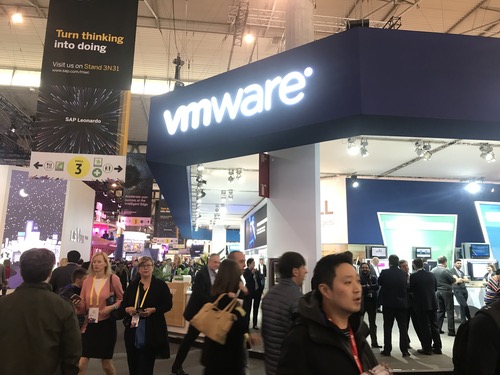 ---
Want to learn more about network automation? Register today for Light Reading's Automation Everywhere on April 4 in Dallas. We will be tackling the business and technology challenges behind driving network automation. The event is free for communications service providers – don't miss out!
---
Hybrid Cloud Extension Services allows enterprises to move applications "without modification, with little or no application downtime, and across heterogeneous VMware vSphere environments," the company said in a statement.
VMware added support for VMware Cloud on AWS to its Wavefront by VMware Service for monitoring and analytics to optimize cloud-native and enterprise applications. The service also supports Pivotal Cloud Foundry and enterprise applications running on VMware-based private clouds.
VMware introduced log intelligence services, for IT troubleshooting and log management across multiple clouds, including VMware Cloud on AWS. And the company expanded its Cost Insight Service to assess the impact of migrating to VMware Cloud on AWS, adding to existing support for Microsoft Azure and VMware private cloud data centers.
Additionally, VMware extended VMware Cloud on AWS to Europe in the AWS London Region.
And the company expanded its partner program to support VMware Cloud on AWS.
The hybrid cloud strategy has been successful for VMware, which reported financial results for the fourth quarter and full fiscal year March 1. Revenue for the fourth quarter was $2.31 billion, up 14% year-over-year, and the full year was $7.92 billion, up 12% annually. On a conference call with analysts, CEO Pat Gelsinger cited cloud in general, and the AWS partnership in particular, as growth drivers, as well as mobile, security and networking.
Dell is working on a "reverse-merger" with VMware that would put privately held Dell back on the public market, with a decision more than a month away, CNBC reported last week. (See Dell Confirms Possible IPO or VMware Merger.)
Related posts:
— Mitch Wagner




Editor, Enterprise Cloud News