Veritas Looks to Stop Data Running Wild
Veritas is launching a suite of services designed to help enterprises stay on top of proliferating data, handling management, backup, business continuity, archiving, compliance, across the cloud and on premises, in a single package.
"We're making it easier for our customers to consume the technologies they need to perform end-to-end data management," Glen Simon, Veritas senior manager for solution marketing, tells Enterprise Cloud News. Data management is becoming more important to enterprises, as IT moves to the cloud. "Previously, IT focused on infrastructure management, but now there's less and less infrastructure under your control as you move to a cloud provider," says Simon. Instead, IT needs to manage data wherever it resides, on-premises or in the cloud.
Veritas 360 Data Management Suite, launched Wednesday, bundles and integrates a half-dozen previously existing Veritas products. It includes NetBackup 8.0, Information Map, Enterprise Vault Management 12.1.2, Veritas Resiliency Platform 2.2, Veritas Velocity 2.0 and Veritas Access 7.2.1.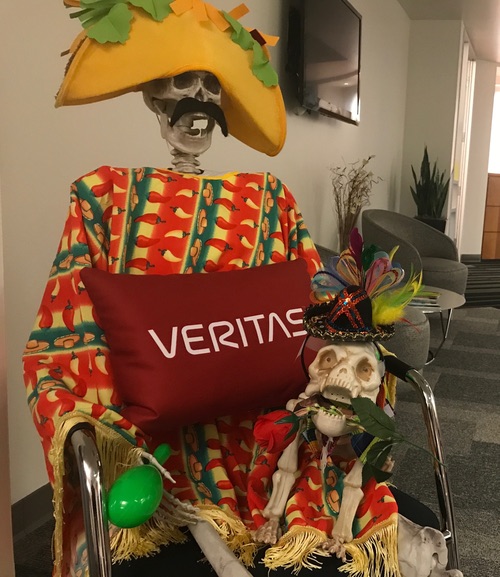 ---
Keep up with the latest enterprise cloud news and insights. Sign up for the weekly Enterprise Cloud News newsletter.
---
What do all those products do? NetBackup does what the name says -- it backs up data. Enterprise Vault Management archives data.
Information Map tracks where data is located -- on premises or in the cloud, and if in the cloud, which cloud service -- using metadata from NetBackup to track data location, as an alternative to having to run agent software on servers and endpoints. "If we can tap into the metadata, we gather that as part of a regular backup," Simon says. Mapping data location is important to regulations such as the European General Data Protection Regulation (GDPR)
Resiliency Platform provides uptime across multiple cloud providers and on premises; Veritas Velocity helps enterprises keep track of where copies of data are located, to minimize the number of copies needed; and Veritas Access provides information on storage networks.
The suite is consolidated onto a single SKU, by terabyte, as a subscription rather than onetime license, for easy accounting and cost forecasting, Simon says.
Related posts:
— Mitch Wagner
Editor, Enterprise Cloud News