The US Department of Energy Oak Ridge National Laboratory (ORNL) has flipped the on switch on Summit, a 200-petaflop supercomputer that's now the world's most powerful and smartest, beating out the previous Chinese claimant.
The IBM-built system, called Summit, comprises 4,608 nodes, each housing two Power9 CPUs and six NVIDIA Tesla V100 GPUs, connected with a Mellanox dual-rail EDR InfiniBand network, delivering 200 Gbit/s to each server, according to a report Saturday on TOP500.org, which tracks the most powerful supercomputers in the world.
Officially, Linpack benchmarks have not yet been disclosed for Summit, but its 200-plus petaflop peak, touted by ORNL, "will surely be enough to outrun the 93-petaflop Linpack mark of the current TOP500 champ, China's Sunway TaihuLight," Top500.org says. (See China Overtakes US in Latest Top 500 Supercomputer List.)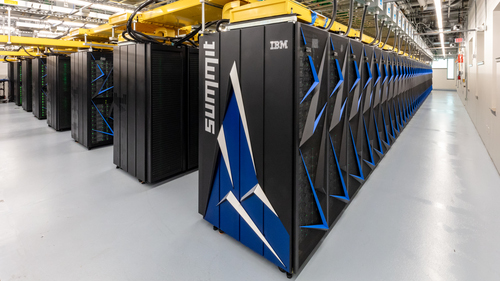 ---
Now entering its fifth year, the 2020 Vision Executive Summit is an exclusive meeting of global CSP executives focused on navigating the disruptive forces at work in telecom today. Join us in Lisbon on December 4-6 to meet with fellow experts as we define the future of next-gen communications and how to make it profitable.
---
"Summit will provide unprecedented computing power for research in energy, advanced materials and artificial intelligence (AI), among other domains, enabling scientific discoveries that were previously impractical or impossible," ORNL said in a statement Friday. Summit is expected to be useful in applying artificial intelligence, machine learning and deep learning to solve problems in areas such as human health, high-energy physics, and material discovery.
Previously, the US was ranked fifth in the world's fastest supercomputers, US Energy Secretary Rick Perry tells CNBC. "But he expects China, which before Summit had the two fastest computers in the world, will work hard to reclaim the top spot," CNBC reported.
Related posts:
— Mitch Wagner




Executive Editor, Light Reading