Red Hat OpenStack Platform 12 Eyes Greater Container, Security Support
Red Hat is preparing to unveil its OpenStack Platform 12 offering this week, which will place a greater emphasis on containers -- to help facilitate the development of cloud-native applications -- as well as security.
The open source company is planning to demonstrate the new platform at the OpenStack Summit in Sydney, Australia, which kicked off Sunday, November 5. (See OpenStack Foundation Wants to Help Real-World Operations.)
OpenStack Platform is Red Hat's infrastructure-as-a-service (IaaS) offering based on OpenStack, the open source, private cloud platform developed by Rackspace and NASA seven years ago. Version 12 has been developed from "Pike," the latest release of OpenStack that debuted in late August. (See OpenStack 'Pike' Release Emphasizes Ease-of-Use.)
With the release of OpenStack Platform 12, Red Hat is emphasizing the use of containers within private cloud, specifically for developing cloud-native applications that can help enterprises work toward digital transformation. In addition, the company is offering a Technology Preview that will allow enterprises to view certain networking and storage services within the cloud.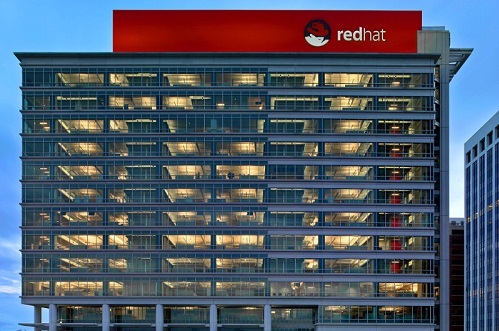 On the security side, Red Hat is offering automation with lifecycle management to deliver security certificates faster. Additionally, the company is adding encryption for its Block Storage offering, and disk partitioning for its Bare Metal Provisioning tool.
"Red Hat OpenStack Platform 12 provides a pathway for organizations to accomplish this [digital transformation] in a more secure, consumable, and predictable manner while reducing vendor lock-in," Radhesh Balakrishnan, general manager of OpenStack at Red Hat, noted in a November 6 statement. "The containerization of OpenStack services paired with the enhanced open source security and stability for which Red Hat is known for, offers a production-ready infrastructure for organizations to bring greater agility into their IT operations."
Over the past year, Red Hat has been working on building out its ability to offer container services across several of its platforms, especially as the technology gains traction, not least within DevOps. For example, in August, the company struck an agreement with Microsoft to allow Windows Server containers to run natively on the OpenShift container platform. (See Microsoft, Red Hat Expand Partnership to Include Containers.)
---
Keep up with the latest enterprise cloud news and insights. Sign up for the weekly Enterprise Cloud News newsletter.
---
At the same time, OpenStack Foundation, responding to concerns from its community, is looking to make OpenStack easier to use. The Pike release places a greater emphasis on management, scalability and composability. Composability, or composable infrastructure, is the ability of IT to manage a data center through a pool of resources that is controlled through software.
Red Hat is also upgrading its ability to offer composable infrastructure with Platform 12, specifically by allowing developers to define their own network topology. There are also improvements to the platform's software-defined networking abilities, as well as extra automation that sends information back to Red Hat quality control engineers, who can then respond faster and send out patches.
While Red Hat plans to talk about OpenStack Platform 12 on Monday, the company would note only that it would be fully released sometime "in the near future."
Related posts:
— Scott Ferguson, Editor, Enterprise Cloud News. Follow him on Twitter @sferguson_LR.