Enterprises of all sizes are expected to increase their spending on public cloud infrastructure this year, with IDC predicting that businesses will spend $122.5 billion on the technology, an increase of nearly 25% from 2016.
The significant bump in spending this year is expected to continue through 2020 as more businesses move applications and workloads from on-premise data center, or private clouds, to public cloud infrastructures such as Amazon Web Services and Microsoft. (See Artificial Intelligence Expert Weighs In for WiC.)
At this rate, public cloud spending should top $203 billion by 2020, according to IDC. That translates into a compound annual growth rate (CAGR) of 21.5% between 2015 and 2020.
Of all the different cloud services that companies buy, IDC found that two-thirds of businesses will spend their IT dollars on software-as-a-service (SaaS) this year. During the next three years, most of the money will be spent on buying applications, such as customer relationship management (CRM) and enterprise resource management (ERM).
During the same time period, spending on infrastructure-as-a-service (IaaS) will grow at a 30% CAGR, and platform-as-a-service will increase at a 32% CAGR.
This type of healthy growth is not surprising given the slew of other reports that have emerged in the last two months about public cloud, which has gained more acceptance over the last 18 months even with concerns ranging from security to developing apps that take advantage of the technology. (See Hybrid Cloud Gains in Popularity, Survey Finds.)
The shift to cloud has also opened up a number of other fields to expand, including artificial intelligence, machine learning, connected cars, and the Internet of Things (IoT).
"The cloud will become more distributed (through Internet of Things edge services and multicloud services), more trusted, more intelligent, more industry and workload specialized, and more channel mediated," Frank Gens, senior vice president and chief analyst at IDC, wrote in the February 20 report. "As the cloud evolves these important new capabilities -- what IDC calls 'Cloud 2.0' -- the use cases for the cloud will dramatically expand."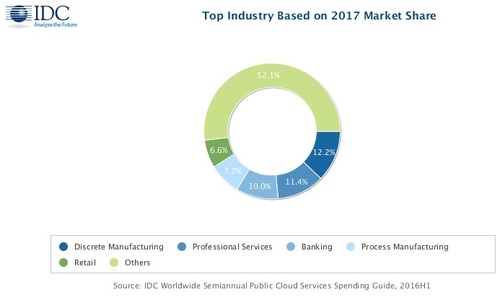 The IDC report does not rank the top public cloud players, but other studies show that AWS continues to dominate the market, while Azure, Google and IBM are in a three-way fight for distant second. After that, other players, such as Oracle, enter the picture. (See AWS Maintains Its Public Cloud Dominance.)
Right now, these big public cloud players are benefiting from the boon. In the last month, Snap Inc., the parent company of Snapchat, detailed that its spending $2 billion with Google for public cloud services, and additional $1 billion with AWS. (See Snap Commits $1B to AWS.)
When it comes to adopting the cloud, IDC lists professional services as the biggest spender between 2015 and 2020, with a CAGR of nearly 24%. Media, retail and telecom are also forecast to increase their investments during this time.
The report also found that the largest enterprises -- more than 1,000 employees -- are adopting public cloud faster than their smaller counterparts. Finally, most of the money spent on cloud will be in the US, with 60% of that revenue entering the US over the next several years. Western Europe along with Asia-Pacific -- minus Japan -- are second and third respectively.
— Scott Ferguson, Editor, Enterprise Cloud. Follow him on Twitter @sferguson_LR.
---
CALLING ALL CLOUD, NFV AND SDN COMPANIES: Make sure your company and services are listed free of charge at Virtuapedia, the comprehensive set of searchable databases covering the companies, products, industry organizations and people that are directly involved in defining and shaping the virtualization industry.
---