Oracle reported quarterly cloud revenues up 32% to $1.6 billion on Monday, collecting rewards of its cloud strategy. Total overall revenues were up 6% to $9.8 billion year-over-year.
Oracle Corp. (Nasdaq: ORCL) executives say the financial results are validation of the company's cloud strategy. And we can't argue with that. (See Oracle Reports $9.8B Q3 Revenue.)
"Our Cloud SaaS applications business is rapidly approaching $5 billion ...and it's still early days," Oracle CEO Mark Hurd said in a statement. "Less than 15% of our on-premise applications customers have begun to migrate their applications to the cloud. As the other 85% of our applications customers start to move their applications to the Cloud, we have a huge opportunity in front of us. We expect to more than double the size of our SaaS business very quickly."
Oracle Autonomous Database is now fully available in the Oracle Cloud, Oracle CTO Larry Ellison said, with more autonomous cloud services to come this year, including analytics, mobility, application development and integration. (See Oracle Expands Cloud Autonomy, Data Centers & SLAs.)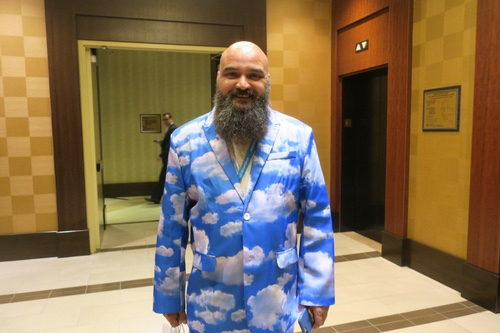 ---
Want to learn more about network automation? Register today for Light Reading's Automation Everywhere on April 4 in Dallas. We will be tackling the business and technology challenges behind driving network automation. The event is free for communications service providers – don't miss out!
---
Oracle sees cloud architecture as helping its own business grow without greater infrastructure investment. "As we fully deploy database multitenancy in our SaaS estate we double our capacity without spending one penny on hardware. We can have twice as many customers, twice as many transactions, twice as many users, without spending one dime," Ellison said on a call with analysts Monday.
Ellison took the opportunity on the call to reiterate some insults he threw at competitor Amazon Web Services Inc. late last year -- and he turned up the volume. He said Oracle's autonomous database can deliver ten times the performance of Amazon at the same cost. The autonomous database cuts cost by eliminating human labor in operations, and also enhances security and reliability by eliminating human error. (See Oracle's Ellison: We'll Beat Amazon Cloud Pricing by Half and 'No Facts, Wild Claims & Lots of Bluster'; Amazon Hits Back at Oracle's Ellison.)
Non-GAAP operating income was up 9% to $4.3 billion, but the GAAP net loss was $4 billion and the GAAP loss per share was $0.98, due to a one-time charge totaling $6.9 billion related to the 2017 Tax Cuts and Jobs Act, which is causing GAAP losses to many companies this quarter.
The board of directors declared a quarterly cash dividend of $0.19 per share of outstanding common stock.
Breaking out results further: Non-GAAP net income was up 21% to $3.5 billion and non-GAAP earnings per share was up 20% to $0.83.
Total software revenues for both cloud and on-premises were $8 billion, up 8%. Oracle broke its cloud revenue into components: Cloud software-as-a-service (SaaS) revenues were up 33% to $1.2 billion, and cloud-platform-as-a-service (PaaS) plus infrastructure-as-a-service (IaaS) revenues were up 28% to $415 million.
Related posts:
— Mitch Wagner




Editor, Enterprise Cloud & West Coast Bureau Chief, Light Reading