OpenStack Foundation Fires Back at Critics
BOSTON -- OpenStack Summit – After weathering some criticism as of late, the organization behind the OpenStack platform took to the stage this week to defend its cloud technology and show that it does indeed have momentum to go forward in a market dominated by large public-cloud providers.
At the start of the OpenStack Summit here on May 8, Jonathan Bryce, the director of the OpenStack Foundation, addressed some of the recent negative reactions to the platform and offered a defense of the organization's work, as well as those IT departments and developers using the platform.
"Obviously, I have a fairly strong opinion about OpenStack and a positive one, but I'm not oblivious to the variety of other opinions that are out there," Bryce said. "In fact, I pay a lot of attention to them because ultimately what I hear is about the success of OpenStack and our community."
Bryce was referring to some of the criticism that has followed the platform for the last few years, especially as the big public cloud providers, especially Amazon Web Services, have come to dominate the discussion about cloud in the enterprise. The platform also seems to have lost some momentum as Intel pulled funding from a developer group. (See Intel Pulls Funding From OpenStack Development Group.)
Rackspace, one of the founding organizations of the OpenStack platform, recently published a blog post calling the death of OpenStack "#FakeNews," as editor Mitch Wagner wrote. (See Rackspace: OpenStack's Death Is #FakeNews.)
However, those who use OpenStack point to its benefits, such as allowing IT organizations to build private cloud infrastructure that provides the efficiency and scalability of public cloud, with the control of on-premises IT. In that way, businesses deploying OpenStack have specialized needs that the public cloud doesn't provide.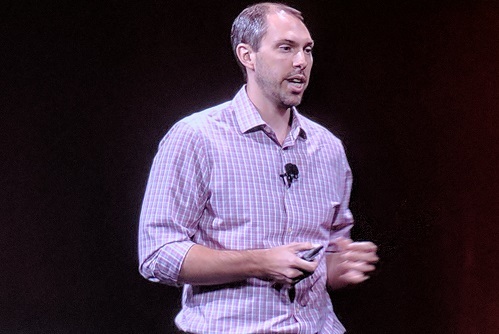 In his talk, Bryce quoted a OpenStack user survey, which found a 44% year-over-year growth in deployments.
"We're seven years into this project, and we are seeing accelerated growth and accelerated adoption, and that makes sense, especially if you think about how technology, especially open source technology, gets developed," Bryce said. "We had a big community that formed up quickly, and then they start building the technology, and it crosses the chasm where it can be adopted and used for a number of a use cases. That's where we are now."
Bryce noted that two-thirds of these deployments are in production, and the foundation paraded out a number of companies, including GE, Verizon, as well as the US Army Cyber School, to show off their various OpenStack cloud projects.
However, Bryce noted that the foundation wants to address some of the concerns of users and developers.
Lauren Sell, the foundation's vice president of marketing and community services, and Thierry Carrez, vice president of engineering, outlined some of those improvements, including a clearer definition of what OpenStack is, new ways that the community can provide feedback, reducing complexity, working closer with adjacent communities, and offering more opportunities for developers to contribute code to the project.
These types of improvements are needed as the cloud moves into what Bryce called its "second generation," where everything is virtualized and companies are looking to add new technologies, such as Kubernetes and OpenShift, into their projects. In this new phase, cloud is no longer purely public or private, but encompasses models such hybrid cloud and multicloud. (See Cisco Ponders the Meaning of the Multicloud Market.)
---
M&A activity is turning the cloud upside down. Find out what you need to know in our special report: Mergers, Acquisitions & IPOs are Rocking the Cloud.
---
Bryce also swatted down the notion that OpenStack can only be used by large enterprises with highly trained engineers. He noted that small and mid-sized firms can use OpenStack as well, due to some of the cultural improvements outlined earlier. (See 4 Fantastic OpenStack Lessons From Yahoo .)
Finally, Bryce described a new cloud consumption model that he called remotely managed private cloud -- a dedicated private cloud but delivered as a service. The OpenStack Foundation now has a dedicated section to this model in its online marketplace.
"I think we're going to see more of these over the coming year as well," Bryce said.
Related posts:
— Scott Ferguson, Editor, Enterprise Cloud News. Follow him on Twitter @sferguson_LR.