Nutanix Busts Out to Hybrid Cloud
Nutanix is breaking out beyond its roots in hyperconverged cloud infrastructure. The vendor announced Wednesday that it is expanding into software-defined networking and also providing platform tools to help enterprises manage databases, constrain cloud costs and achieve regulatory compliance on public clouds including Amazon Web Services and Microsoft Azure.
But the company's strategy is still the same, Greg Smith, Nutanix Inc. vice president of product and technical marketing, tells Light Reading.
"The strategy has been the same for two-plus years, to help our customers build, manage and scale multicloud architectures," Smith says.
Nutanix launched in 2009, providing hyperconverged storage -- virtualized storage and compute combined into individual servers, which are then clustered into a unified fabric.
Nutanix is complementing its hyperconverged line with Nutanix Flow, for one-click software-defined networking. Flow provides easily configured software networking infrastructure with automated provisioning and native microsegmentation. "Flow provides application-centric security to protect against internal and external threats not detected by traditional perimeter-oriented security products," Nutanix said in an emailed statement.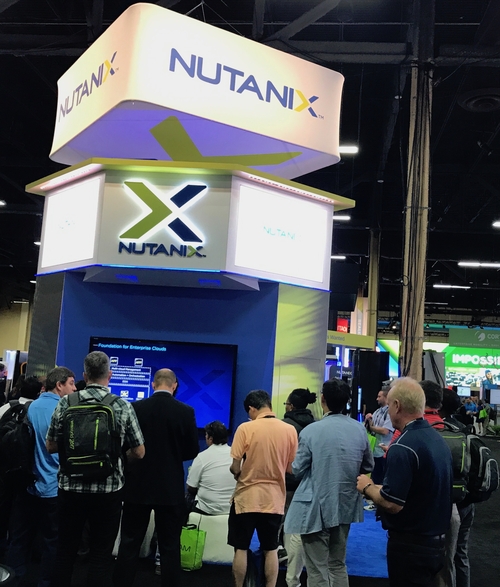 ---
Boost your knowledge of cloud-native software and innovations driving data center transformations! Join us in Austin at the fifth annual Big Communications Event May 14-16. The event is free for communications service providers -- secure your seat today!
---
Flow puts Nutanix in competition with VMware Inc. (NYSE: VMW), which provides microsegmentation as a key feature of that vendor's NSX software-defined networking.
Flow capabilities are integrated into Nutanix Acropolis software for ease of deployment, enhanced with real-time application visibility and discovery from the company's recent acquisition of Netsil, Nutanix says.
Nutanix Era provides provisioning and lifecycle management for Oracle and PostgreSQL databases, with additional database support coming in the future. Era is designed to reduce provisioning of new databases to just minutes.
And Nutanix Beam is based on Nutanix's Mimjar acquisition, to help companies control cost and manage compliance in public clouds, including Amazon Web Services Inc. and Microsoft Azure .
Nutanix joins a crowded market for multicloud management. Just in the last two weeks, Red Hat launched new multicloud services, as well as VMware and Cisco. These announcements join a constant drumbeat of vendors getting into multicloud orchestration over the past two years.
Nutanix says it's unique in offering an alternative to vendor lock-in -- which is pretty much what all the other vendors say too. (See Red Hat Partners With Microsoft & IBM for Hybrid Cloud Power, Red Hat Beefs Up OpenShift Automation, Based on CoreOS Acquisition, Mesosphere Scores $125M in Hot Multicloud Orchestration Market VMware Takes On Cisco & Juniper With Network Vision, Cisco Pushes Kubernetes to Brownfield, IBM Cloud Private Extends Big Blue's Hybrid Reach, Google Hybrid Cloud Networking Gets Production-Ready and VMware Updates vRealize To Simplify Data Center, Hybrid Cloud Management.)
With a crowded market of vendors with similar pitches, winners will be decided by execution -- who manages to satisfy customers best. Nutanix has done well satisfying customers on data center infrastructure; now we'll see how they do on networking and platform tools.
— Mitch Wagner




Executive Editor, Light Reading
PARTNER PERSPECTIVES
- content from our sponsors