The last eight months of 2016 were not easy for Mitel.
There was the failed bid to acquire Polycom in August. Then, after paying $560 million for Mavenir Systems a few years ago, the company sold it off for $350 million in December, and that contributed to a $209 million net loss during the fourth quarter. (See Mitel to Offload Mobile Unit to Xura for $350M+.)
On top of that, the market for unified communications and collaboration (UCC) is facing the same pressures from cloud computing as many other markets, including pressure from customers to deliver UCC apps that fit within their work needs. Add to that, Mitel is facing increased competition from the likes of Cisco, Microsoft, as well as from newcomers and non-traditional UCC companies such as Slack. (See Slack Makes Big Enterprise Push.)
Raul Castañon-Martinez, an analyst with 451 Research, wrote in an email that the market Mitel finds itself in is a challenging one.
"To be fair Mitel's travails with their transition to the cloud are not unique among incumbent UC providers; neither is their relatively slow response to Slack," Castañon-Martinez wrote. "Mitel in fact was quicker to jump on the team collaboration bandwagon than other players; this is a plus for the company, given that collaboration is one of the key components driving the UC market."
With that as the backdrop, CEO Rich McBee appeared before analysts and investors in New York City in early March to make the case that Mitel is not only stable, but ready for a comeback. It helps that another rival, Avaya, recently declared bankruptcy and that Mitel has started to shift its focus to cloud-based apps that look to make UCC vital in the digital age.
"The tech evolution is very natural for us," McBee told Enterprise Cloud News during the analyst day on March 7. "Other competitors are going to have a hard time with it. We always have had an open architecture approach. Highly focused, moving to applications, which are good for our business and our customers and that will help us attract new customers and that we are financially sound."
While Mitel's legacy is based on UCC, McBee said he's most focused on the "collaboration" part as the key to the company's future. At the event, Mitel laid out a room focused on its various systems that support this vision, including notification systems for hotel guests, security software for law enforcements, and a mass alert system that can work in schools, whether it's for an emergency within the school building or to declare a snow day.
"Unified communications to help people collaboration is the next big thing," McBee said. "The digital transformation, the linking of people, things, and information to transform their business -- it's going to be the collaboration piece."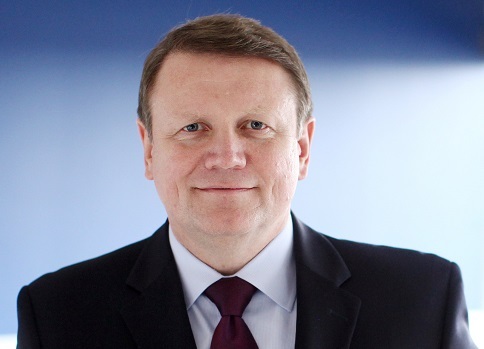 The cloud transformation is internal and external. It's not only changing how Mitel interacts with its customers, but how it develops apps.
Jim Davies, the company's vice president of Vertical Initiatives and its CTO, said that Mitel has separated out the development of its traditional PBX offerings from its next-generation apps, and the company is taking its cues from the new world of DevOps and Agile to make software for its customers. The two-year development cycle is over, said Davies.
What has also changed is the way customers use UCC within their business. In the past, there was a big UCC offering and that's how the technology was sold. Now, UCC applications are more of a workflow within a larger app, such as a Salesforce's CRM offering, Davies said.
In the competitive landscape, Davies said while Mitel competes against the likes of Cisco and Microsoft, the market disruptors are non-traditional players outside the PBX and UCC space, companies such as Slack. At the same time, there are opportunities to partner as well.
On the road to cloud, there are still big obstacles to overcome, including missteps Mitel has made in the last 12 months. McBee said he planned to chart a middle ground for acquisitions in 2017, meaning none the size of the Polycom deal, and none like Mavenir, which pulled the company away from its core competency in UCC.
"We are sticking straight down the middle of UCC and our filter for acquisitions is strategic, so [we ask] does it make our strategic model of UCC, does it make financial sense and then is it executable?" said McBee. "So that's the filter we run on every company."
Then there's the opportunity with Avaya, which is undergoing bankruptcy and has recently sold off a chunk of its business to Extreme Networks. (See Avaya Offloads Its Networks Biz to Extreme for $100M.)
Mitel has made no secret that it will go after parts of that business. McBee declined to discuss a specific company strategy -- there are other companies also targeting Avaya's business -- but in broad terms, he spoke of a two-pronged approach: Going after customers and approaching Avaya's channel partners.
"Avaya is a good company with great customers, who are technically advanced, astute and value oriented," McBee said. "So we are going after their customer base and we have been successful doing that, and a going after their channel partners. A large portion of the business is sold through channels and with channel partners when their partner goes bankrupt they get nervous and they look at the stock of what they are offering and maybe it's time to diversify."
In his email, analyst Castañon-Martinez wrote that while Mitel is more focused, it also needs to address issues around team meeting technology, as well as mobile, which is what Microsoft is addressing with its Surface Hub and Cisco with its Spark Board. (See Cisco Looks to Take the Pain out of Meetings.)
Still, there's room for the company to grow.
"The good news is that Mitel does not need to become an all-in-one provider," Castañon-Martinez wrote. "The rules of the game are changing and integration to third-party applications will be more important. If Mitel can balance that out and leverage its partner network to provide the modern solutions that customers are looking for, I believe it stands a good chance to keep its spot as a leading provider of business communications."
— Scott Ferguson, Editor, Enterprise Cloud News. Follow him on Twitter @sferguson_LR.