Microsoft's annual revenue topped $110 billion for the first time in the company's history during fiscal 2018, up 14%, driven by cloud and intelligent edge services, the company said in its fourth-quarter earnings report Thursday.
Microsoft Corp. (Nasdaq: MSFT) has had an "incredible year, surpassing $100B in revenue," CEO Satya Nadella said in a statement. "Our early investments in the intelligent cloud and intelligent edge are paying off." (See Microsoft Cloud Drives $30.1B 4Q Revenue, Up 17% YoY.)
Operating income was $35.1 billion, up 21% for the year, and diluted earnings per share was $3.88 non-GAAP, the company said.
Revenue for the fourth quarter was $30.1 billion, up 17%, with operating income $10.4 billion, up 35%. Diluted earnings per share was $1.13 non-GAAP.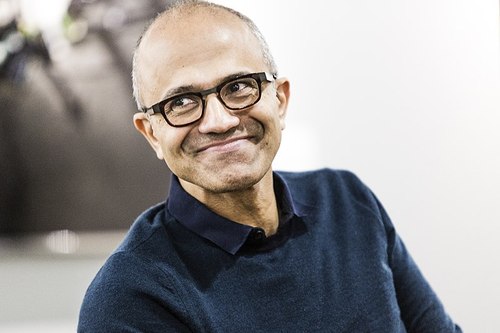 ---
Now entering its fifth year, the 2020 Vision Executive Summit is an exclusive meeting of global CSP executives focused on navigating the disruptive forces at work in telecom today. Join us in Lisbon on December 4-6 to meet with fellow experts as we define the future of next-gen communications and how to make it profitable.
---
Commercial cloud revenue grew 53% year-over-year for the quarter to $6.9 billion, the company said.
Azure revenue growth was 89%. That's the first time it has dipped below 90% in a while. In the second quarter ending in December, Azure growth was a whopping 98%, and the third quarter saw growth of 93%. (See Microsoft's Cloud Bet Keeps Paying Off and Microsoft Crowds the Cloud With AI, Expansion Focus).
Companies are now moving their "Tier 1" -- most important -- applications to the cloud, something they were unwilling to do in the cloud's early days, Nadella said.
Office commercial products and cloud services were up 10% driven by Office 365 commercial revenue growth of 38%. Office consumer products and cloud services revenue was up 8%, and Office 365 consumer subscribers increased to 31.4 million.
LinkedIn revenue increased 37%, with sessions growth increasing 41%.
Dynamics products and cloud services revenue were up 11%, driven by Dynamics 365 revenue growth of 61%.
The category Microsoft calls Intelligent Cloud, which includes on-premises server software, saw $9.6 billion revenue up 23% year-over-year, with server products and cloud services revenue up 26%, driven by Azure revenue growth of 89%. Enterprise Services revenue was up 8%.
For the fiscal year 2018, revenue was $110.4 billion up 14%, operating income was $35.1 billion up 21%, diluted earnings per share was $3.88 non-GAAP.
The earnings announcement is the latest in a series of recent wins for Microsoft. This week, Walmart named Microsoft the retailer's top cloud provider, as Walmart looks to beat Amazon in retail and Microsoft in the cloud. (See Walmart Teams With Microsoft Against Common Amazon Enemy.)
Also this week, Microsoft set its sights on the trendy Slack collaboration service, launching a free version of Teams for up to 300 users. (See Microsoft Whacks Slack With Free Teams Tier.)
In June, Microsoft invested big in open source, acquiring the GitHub software developer collaboration service. (See Microsoft Swears GitHub Independence After $7.5B Acquisition and How Microsoft Became an Unlikely Open Source Champion.)
Red Hat extended its multicloud portfolio with partnerships with both Microsoft and IBM in May. (See Red Hat Partners With Microsoft & IBM for Hybrid Cloud Power.
And in March, Microsoft reorganized into two major divisions, one focused on experiences and devices and another on cloud and AI platforms. (See Microsoft Pushes Cloud & AI Even Harder.)
— Mitch Wagner




Executive Editor, Light Reading