Gap Inc., which includes Old Navy, Gap, Banana Republic and other retail brands, is moving its 3,100 stores and other channels to the Microsoft cloud. Microsoft will be Gap's "primary cloud provider," according to a Microsoft statement released Friday.
The $15.9 billion retailer, which operate in more than 90 countries worldwide through company-operated stores, franchises and e-commerce sites, is moving to Microsoft for "technology innovation, speed and flexibility, using Microsoft Azure and Microsoft 365 to deploy new business capabilities and work more efficiently across the organization." (See Gap Inc. Takes Retail to Microsoft Cloud.)
Gap is looking to grow its online and mobile business; migrate hundreds of applications to Azure; and provide multi-channel retail operations across stores, online and mobile. At first, Gap will move key inventory, stores and site capabilities to Azure. Gap will use Azure to provide analytics and machine learning to learn about customers across channels and deliver personalized merchandising, marketing and service for all its brands. Gap is using Microsoft Power BI to let employees visualize and act on information to improve customer experience. Additionally, Gap will use Microsoft 365 for collaboration, according to the Microsoft statement.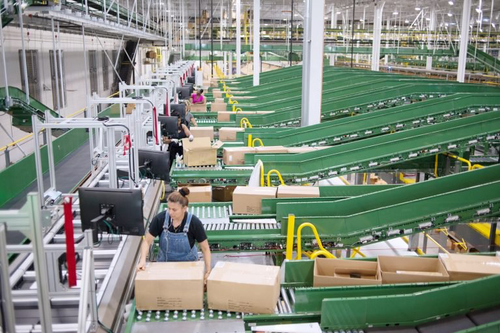 ---
Now entering its fifth year, the 2020 Vision Executive Summit is an exclusive meeting of global CSP executives focused on navigating the disruptive forces at work in telecom today. Join us in Lisbon on December 4-6 to meet with fellow experts as we define the future of next-gen communications and how to make it profitable.
---
Technology is essential to survival in the retail sector, which is taking a beating due to cultural transformation (brought about by technology). "Every day you hear about another retail company closing its store. Or you see a picture of a once-thriving mall looking like a ghost town," Rathi Murthy, senior vice president and CTO of Gap Inc., told attendees at the Open Networking User Group Spring 2017 conference in April 2017. "In the retail sector, we are faced with a tremendous opportunity to embrace this change or become irrelevant." (See Gap's Tech Motto: 'Change or Die'.)
Gap is looking to technology to manage its demand and supply chain, optimize inventory for particular regions and provide a unified shopping experience across multiple channels, Murthy said 17 months ago. The company was then deploying SD-WAN to connect to cloud applications.
Microsoft has been having a good week in the retail sector. On Monday, Microsoft and Walmart announced they are expanding their cloud partnership, in a deal that's similar to the Gap agreement. The initial focus will be moving Walmart's thousand of internal business applications to Microsoft Azure. The two companies will also work on developing new applications using emerging technologies such as the Internet of Things, AI and chatbots. (See Microsoft & Walmart Heat Up Amazon War.)
Amazon Web Services faces a headwind as it tries to sell services to retailers because Amazon's main business competes with them. Microsoft is using that as a selling point for its cloud services -- and it seems to be working. (See Are Retailers Leaving Amazon Cloud? and Microsoft: We're Not Bullies Anymore! We're Nice!)
— Mitch Wagner




Executive Editor, Light Reading