Microsoft turned in a record-setting quarter on Wednesday, with $29.1 billion in revenue, up 19% year-over-year. While Azure revenue growth was up 76%, that's a slowdown from recent quarters, when Microsoft was kissing triple-digit Azure growth rates.
Microsoft is the second-ranked cloud provider, and it's looming larger in first-ranked Amazon Web Services Inc. 's rear-view mirror. Amazon had 34% of the cloud market as of the summer, more than the next three competitors combined. But Amazon growth has been nearly flat, while Microsoft, Google and Alibaba far surpassed the overall market growth rate, according to a Synergy Research report. (See Amazon Still Dominates Cloud Market, Bigger Than Next Four Competitors Combined and IBM Is Losing the Cloud Race.)
Slowing growth is not bad news for Microsoft, especially not 76% growth, particularly given Microsoft's overall size. Also mitigating the downside of slowing growth: Microsoft is growing at significantly better than the overall market, which grew at about 50%, according to Synergy.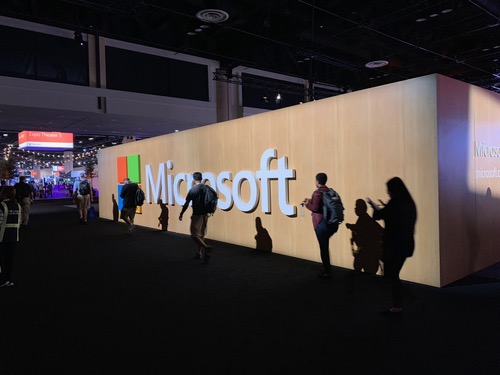 ---
Now entering its fifth year, the 2020 Vision Executive Summit is an exclusive meeting of global CSP executives focused on navigating the disruptive forces at work in telecom today. Join us in Lisbon on December 4-6 to meet with fellow experts as we define the future of next-gen communications and how to make it profitable.
---
Other quarterly results highlights:
Commercial cloud revenue for Microsoft's first quarter of 2019, ending Sept. 30, was $8.5 billion, up 47% year-over-year. Commercial cloud revenue includes a portion of LinkedIn results.
Overall office commercial products and cloud services were up 17%, driven by Office 365 commercial revenue growth of 36%, Microsoft says.
Microsoft's two-year-old investment acquiring LinkedIn benefitted the company, with LinkedIn revenue increasing 33%, and record engagement, with LinkedIn sessions of 34%.
And net income for the first quarter quarter ending Sept. 30 was $8.8 billion, up 34%, with diluted earnings per share of $1.14 billion, up 36%.
Further financial numbers are included in Microsoft's quarterly earnings release. (Spoiler alert: It's all good.) (See Microsoft Rings Up $29.1B Q1 Revenue, Up 19% .)
Microsoft closed trading Tuesday at $102.32, down 5%, but bounced up about 2% when its quarterly numbers were released after hours, to $104.30.
Related posts:
— Mitch Wagner




Executive Editor, Light Reading