It's been rumored for years, but it's now a reality: Microsoft will use Qualcomm's ARM processors within its Azure cloud computing platform. The two companies announced the agreement at the Open Compute Project (OCP) Summit, which starts March 8.
Specifically, Microsoft plans to run its Windows Server software on servers that use Qualcomm's 10-nanometer Centriq 2400 chips. This is one of several different announcements Redmond is making at the OCP summit, including partnership with other ARM chip makers.
The agreement is a big one not only for Qualcomm and its ARM chip designs, but also for Microsoft, which has been intertwined with the x86 chip market for years -- specifically with Intel -- for the vast majority of its cloud computing needs.
By using ARM processors, Microsoft is looking to speed up and deploy cloud workloads faster, as customer demands for these services increase, especially compute-intense technologies such as machine learning and artificial intelligence, according to a blog post by Leendert van Doorn, a distinguished engineer at Microsoft.
"The demand for cloud services continues to grow at a dramatic pace and as a result we are always innovating and looking out for technology disruptions that can help us scale more rapidly," van Doorn wrote. "We see one such disruption taking shape in the silicon manufacturing industry. The economic slowdown of Moore's Law and the tremendous scale of the high-end smart phone market has expanded the number of processor suppliers leading to a 'Cambrian' explosion of server options."
Microsoft will use Qualcomm's Centriq 2400 Open Compute Motherboard, which is based on the company's recently announced 10-nm, 48-core server processor. These chips will be used as part of Project Olympus, which is Microsoft's OCP hardware design and specs for cloud infrastructures.
Although the agreement was announced Wednesday, Qualcomm and Microsoft have worked together for several years to create hardware and software that support Windows Server, as well as workloads that run on Azure, according to the announcement.
The two companies plan on continuing their partnership, which will include new generations of ARM chips that are being developed, as well as updated versions of Windows Server.
Neither Microsoft nor Qualcomm announced when they would make these ARM-based systems commercial available to Azure users.
Microsoft has been part of OCP since 2014, and Project Olympus already uses x86-based chips from Intel's Xeon line as part of its design. The use of ARM chips adds another dimension to the open source project. (In addition, on Wednesday, Microsoft announced that it's working with AMD to use its chips with Project Olympus as well.) (See Microsoft Lights a Fire Under Open Source Hardware Dev.)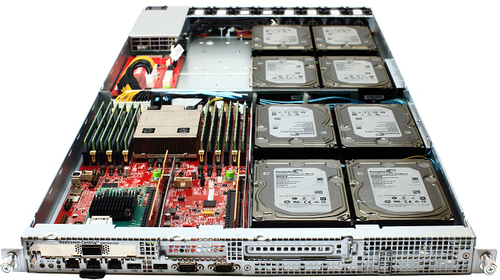 In addition to the collaboration with Microsoft, Qualcomm is also joining to OCP and will be donating the specs of its cloud board to the organization. The goal of the OCP is to create open source specifications for servers, storage and other data center components in order to make building these infrastructures more affordable.
Although the two companies demo'ed the processors running at the summit, the 10-nm Centriq 2400 chips from Qualcomm will be commercially available later this year. In addition, Microsoft is working with Cavium to use its ARM chip design with Project Olympus as well.
— Scott Ferguson, Editor, Enterprise Cloud. Follow him on Twitter @sferguson_LR.
---
CALLING ALL CLOUD, NFV AND SDN COMPANIES: Make sure your company and services are listed free of charge at Virtuapedia, the comprehensive set of searchable databases covering the companies, products, industry organizations and people that are directly involved in defining and shaping the virtualization industry.
---