Microsoft is looking to bring Cray's supercomputing and high-performance computing (HPC) capabilities to its Azure public cloud with a new partnership that will address problems including scientific research and modeling and artificial intelligence.
Specifically, the October 23 agreement will allow some Azure users to tap into Cray's XC and CS supercomputers, as well as the Cray ClusterStor storage systems.
Cray supercomputers and storage will integrate with Azure Virtual Machines, Azure Data Lake storage, as well as Microsoft's AI and machine learning platforms.
By offering supercomputing and HPC capabilities in the cloud, Cray and Microsoft are looking to lower the barriers to tapping into this type of compute power, which is normally confined to the major research facilities, universities and government agencies that can afford these systems.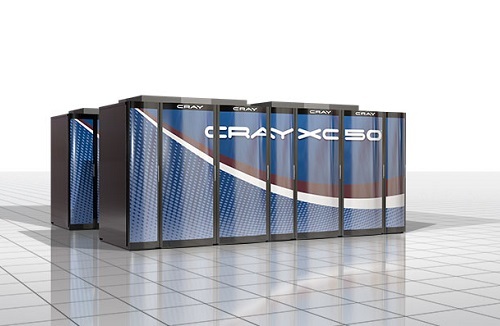 The goal is to further scientific research, including climate modeling, AI, medical imaging and the development of autonomous vehicles.
"Dedicated Cray supercomputers in Azure not only give customers all of the breadth of features and services from the leader in enterprise cloud, but also the advantages of running a wide array of workloads on a true supercomputer, the ability to scale applications to unprecedented levels, and the performance and capabilities previously only found in the largest on-premise supercomputing centers," Peter Ungaro, the CEO of Cray, wrote in a statement.
Cray is one of the world's leading HPC makers.
Currently, the company's Piz Daint system in Switzerland is ranked third most powerful in the world. It's based on the Cray XC50 supercomputer and was recently upgraded with Nvidia's Tesla P100 graphic processing unit (GPU) chips, which increased its capacity from 9.8 petaflops to 19.6 petaflops. (See US Loses Top Slots in Supercomputing Rankings.)
Cray's Titan system at the US Department of Energy's Oak Ridge National Laboratory in Tennessee ranks fourth in the world with a performance measured at 17.6 petaflops.
Cray has also been branching out it the cloud. In addition to its agreement with Microsoft, the company announced earlier this year that it is offering its Urika-GX system essentially as a supercomputer-as-a-service.
---
Keep up with the latest enterprise cloud news and insights. Sign up for the weekly Enterprise Cloud News newsletter.
---
For its part, Microsoft is looking to expand its own capabilities in AI and machine learning, and this agreement is a way for the company to expand developments in those areas, while using its public cloud platform as the basis for that research. (See Microsoft Serving a Slice of AI With Everything at Ignite.)
"At Microsoft, we believe access to Big Computing capabilities in the cloud has the power to transform many businesses and will be at the forefront of breakthrough experimentation and innovation in the decades to come," Jason Zander, corporate vice president for the Microsoft Azure Team, wrote in a Monday blog post.
In addition to supercomputing and HPC, Microsoft is also one of the major tech companies that is looking to expand what many consider the next great leap in computing -- quantum computing. At its Ignite event in June, Microsoft CEO Satya Nadella detailed Redmond's efforts to bring quantum computing into reality, including a new, but unnamed programming language, which will allow researchers to run simulations. (See Microsoft's Quantum Computing Efforts Come into Focus.)
Related posts:
— Scott Ferguson, Editor, Enterprise Cloud News. Follow him on Twitter @sferguson_LR.