Meg Whitman: HPE Will Live on the Intelligent Edge
LAS VEGAS -- HPE Discovery -- When it comes to building and maintaining an IT infrastructure, Hewlett Packard Enterprise CEO Meg Whitman sees a future where companies invest more in hybrid IT, with most computing moving to the "intelligent edge."
During her keynote address here Tuesday, Whitman laid out a vision for HPE that takes advantage of the company's recent acquisitions, including SimpliVity, Nimble Storage and SGI, as well as enterprises' desires to use a combination of public and private clouds to support different applications and workloads.
HPE has been undergoing turbulent times, including selling off some businesses and reorganizing, along with a recent quarterly loss. Looking beyond the present doldrums, Whitman detailed a strategy for the company that addresses digital transformation, including up-and-coming technologies such as Internet of Things (IoT).
Edge computing is a key part of that strategy.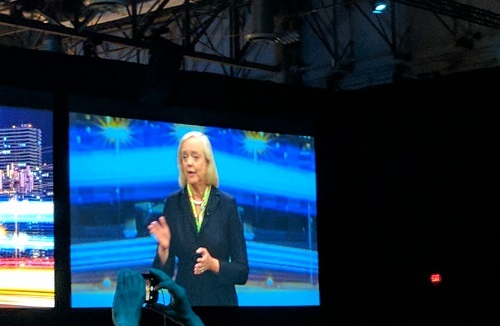 "The edge is the world that lives outside your data center," Whitman said. "It's where you interact with your customers. It's where you are manufacturing your products. It's where your employees sit. And it's where digital transformation will have the most profound impact on your business, creating new workforce experiences, transforming your operations and creating unique and differentiated customer experiences."
She added, "It's also where companies are most at risk of being disruptive."
Edge computing means a lot more data coming in from a lot more devices. HPE's customers will need to understand this data fast, and can't wait for the information to flow back to a centralized data center or the cloud, Whitman said.
HPE Edgeline, Aruba networking offerings, are key to the edge computing strategy. Whitman called these the "tip of the spear" for the intelligent edge. Whitman also believes the company's SGI acquisition will give the company an competitive advantage.
Whitman detailed HPE's strategy of hybrid IT by talking about the "cloud cliff," the point at which the public cloud does not meet business needs, for reasons such as control, cost or security. Enterprises want to control certain workloads within their own data centers, as well as within their own private clouds. (See HPE Goes All in With Hybrid IT.)
To hammer home that point, Clark Golestani, president for Emerging Businesses and Global CIO at Merck, detailed how his company weighed the benefits of going all to the public or working in the hybrid cloud. In the end, the drug maker went with hybrid.
---
M&A activity is turning the cloud upside down. Find out what you need to know in our special report: Mergers, Acquisitions & IPOs are Rocking the Cloud.
---
Merck's business is driven by regulatory constraints and privacy requirements. Cost containment is very important to Merck as well. These factors "really drove to a converged infrastructure solution on-premises," Golestani said.
In order to simplify the hybrid approach, HPE is pushing its Synergy composable infrastructure, which allows IT to manage a data center through a pool of resources that is controlled by software. It also introduced Project New Stack, a new type of management layer that is slated for beta later this year.
And HPE's PointEdge consulting service helps customers make sense of their data. "It's about turning insight into action," she said.
Related posts:
— Scott Ferguson, Editor, Enterprise Cloud News. Follow him on Twitter @sferguson_LR.