Meg Whitman: HPE Is Ready to Expand Again

Comment (6)
LAS VEGAS -- HPE Discover -- Hewlett Packard Enterprise CEO Meg Whitman believes that after the last several years of upheavals and changes at the company, the time is now right to start expanding again with a focus on three core areas and possibly more acquisitions.
In a conversation with press and analysts, Whitman said she believes in a "three bucket" theory to continue to improve the fortunes of the company as it focuses more of its efforts on helping customers build hybrid clouds, as well as helping them maintain their current IT infrastructure. (See Meg Whitman: HPE Will Live on the Intelligent Edge.)
These three areas of focus are:
Simplifying how customers build and maintain a hybrid IT infrastructure that includes public and private cloud resources
The intelligent edge, where data is collected from different devices and analyzed there without going back to the cloud
Providing customers with IT services to help implement hybrid cloud and computing on the edge
"We are now expanding against those three pillars," Whitman said.
While organic growth within the company remains important -- she noted developments such as Synergy, its composable infrastructure, and Project New Stack, a new type of management layer -- acquisitions will remain important, Whitman said. She noted several the company made in the past several months including SGI, SimpliVity, Nimble Storage and Cloud Cruiser. (See HPE Goes All in With Hybrid IT.)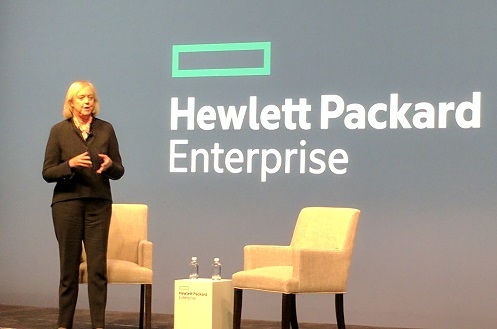 Focus on these areas was crucial to help building the company, and spinning off some divisions while separating itself from HP Inc. -- the PC and printer side of the original company -- is helping to maintain that focus, Whitman said. The separation helps these new entities better compete, she added. (See HPE Spins Services, Cuts Outlook.)
(As one analyst noted to Enterprise Cloud News, in order for HPE to "buy the new stuff," it had to free up cash and needed to "sell the older stuff.")
---
M&A activity is turning the cloud upside down. Find out what you need to know in our special report: Mergers, Acquisitions & IPOs Are Rocking the Cloud.
---
HPE faces competition from the likes of Dell EMC, which is expanding its own hyperconverged infrastructure offerings for cloud, as well as Cisco.
HPE posted disappointing second-quarter financial results due to restructuring and a top-tier server customer reducing its orders. (See HPE Posts Loss as Company Restructuring Continues.)
HPE has tried to build an ecosystem over the past several years to help deliver its products to customers, Whitman said. This not only includes channel partners, but its rebranded services unit called PointEdge.
"[PointEge] is an integral piece to support HPE and its overall portfolio and IP," said Whitman, adding that while selling hardware in volume is important, many companies are looking to make a digital transformation and need help to make that work.
With developments such as The Machine, and the SGI acquisition, high-performance computing is looking to go more mainstream as enterprises crunch large data sets as part of big data projects, and HPE is looking to offer more services there as well, Whitman said. (See HPE Cranks Up The Machine at Discover.)
Related posts:
— Scott Ferguson, Editor, Enterprise Cloud News. Follow him on Twitter @sferguson_LR.