Lenovo Eyes Bigger Roles in Cloud, Data Center

Comment (5)
It's been a little more than two years since Lenovo closed on a deal to buy IBM's System x business, and now the company seems poised to capitalize on the acquisition with an eye toward expanding deeper into the data center, as well as the cloud.
At its Transform show in New York City this week, Lenovo rolled out a massive number of new products, including 14 server platforms, seven storage devices, five networking offerings, along with updating its ThinkAgile line with a hyperconverged offering that uses Microsoft's Azure Stack. (See Lenovo Doubles Down on Hyperconverged With Microsoft's Help .)
All of it points to an expanded role in supplying more infrastructure to data centers.
However, the data center is only a start. In his keynote at the show, CEO Yuanqing Yang talked about a "fourth industrial revolution" that includes building on the data center and software-defined infrastructure and expanding into big data and artificial intelligence.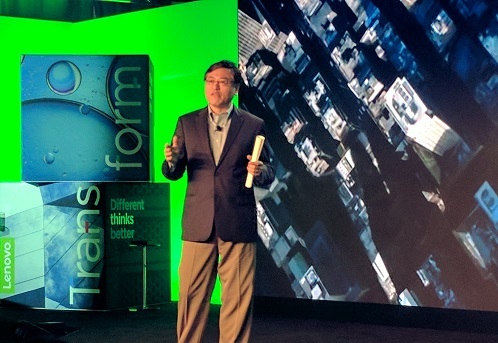 "The fourth revolution is already here," said Yang. "In just the past two or three years, the growth of data and the advancement of artificial intelligence has been astonishing. The computing power can now process the massive amounts of data about your customers, suppliers, partners and competitors that you couldn't imagine before. Artificial intelligence can not only tell you what they want today, but also anticipate what they need tomorrow."
Lenovo has had a data center business before, but it mainly focused in China, where the company was born. That focused helped give Lenovo a natural edge, especially with other customers there such as Alibaba. Now, however, the company is planning to use IBM's x86 server business to expand globally, which puts it in more direct competition with Dell EMC, Hewlett Packard Enterprise and, to an extent, Cisco. (See Dell, HPE, Cisco Top Cloud Infrastructure Market – Analysts .)
Patrick Moorhead, principal analyst at Moor Insights, sees a lot of commoditization within global infrastructure market as companies look to buy more hyperconverged and converged equipment to build out private and hybrid cloud deployments. What makes Lenovo interesting right now is that the company is building much of its own gear and not outsourcing those duties to an original design manufacturer (ODM).
At the same time, the company is facing pressure due to consolidation in the hyperconverged market. Dell EMC owns VMware and HPE has acquired several companies that partnered with Lenovo. (See Meg Whitman: HPE Is Ready to Expand Again.)
It's one reason why Lenovo and Microsoft joined together on ThinkAgile.
"To me they have made their bet," Moorhead told Enterprise Cloud News. "To me, they are going end-to-end rather than ODM and being slightly more sophisticated about it... this partner strategy is on the cutting edge but it's clear to me that all the big players are aligning and I think there's room for one extra big player."
Lenovo's other pitch for the data center is that it has no legacy business to protect, so it's willing to work with customer to build what they need instead of trying to resell gear with good margins.
---
M&A activity is turning the cloud upside down. Find out what you need to know in our special report: Mergers, Acquisitions & IPOs are Rocking the Cloud.
---
To help with that, it now has a dedicated sales team that is only selling data center products, said Kirk Skaugen, the president of Lenovo's Data Center Group. He also pointed to the company's five global manufacturing centers, as well as seven data center research facilities.
For enterprises unsure if Lenovo can handle certain workloads, Skaugen noted that SAP is running its own in-house HANA in-line memory database on Lenovo hardware.
While Lenovo might want to sell itself more as a startup than a company that bought a legacy business, it's also showing it can innovate on a high level. At the show, Lenovo gave a glimpse of the supercomputer it constructed for the Barcelona Supercomputing Center called MareNostrum 4, which has the capacity of 11.1 petaflops.
The company now has more than 90 machines listed on the Top 500 supercomputer list and Skaugen said Lenovo harbors dreams of becoming the number one supplier to the high-performance computing (HPC) market. (See US Loses Top Slots in Supercomputing Rankings.)
Charles King, an analyst with Pund-IT Research, told ECN that Lenovo is trying to balance three things: its legacy x86 server business from IBM, the new ThinkAgile developments for hyperconverged and its desire to become a bigger player in HPC. It might take some time before Lenovo ranks with Dell EMC and HPE, but King does see the company making a bigger play into these market sooner rather than later.
"In the hyperconverged market, I think they are ready to play there and I think they are ready to compete there," said King. "Within the x86 portfolio, they had the foundations for building these new hyperconverged and other software-defined solutions."
Related posts:
— Scott Ferguson, Editor, Enterprise Cloud News. Follow him on Twitter @sferguson_LR.