Infrastructure Spending Is Booming
The world's appetite for data center and server infrastructure seems insatiable, reflected in separate research reports released this week.
Hyperscale operators spent $22 billion on capex in the fourth quarter, and nearly $75 billion for 2017 overall, up 19% year-over-year, according to a report from Synergy Research Group Inc.
"Much of that hyperscale capex goes towards building and expanding huge data centers, which have now grown in number to 400. The top five spenders are Google, Microsoft, Amazon, Apple and Facebook, which in aggregate account for over 70% of Q4 hyperscale capex," according to a statement this week from Synergy. (See Hyperscale Data Centers Continued to Grow in 2017.)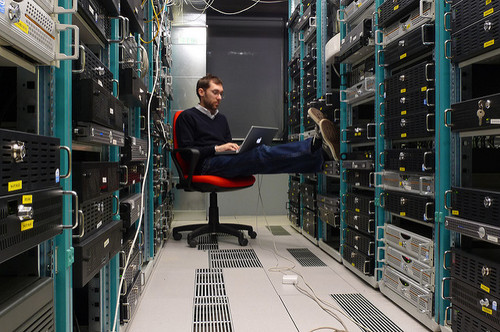 Capex comprised just over 7% of overall revenues for hyperscale operators, varying company to company from a low of 2% to a high of 17%, the researchers say.
To compile the report, researchers looked at capex and data center footprints for 24 of the world's major cloud and Internet service firms, including the biggest infrastructure, platform and software as a service (IaaS, PaaS and SaaS) platforms, as well as search, social, networking and ecommerce.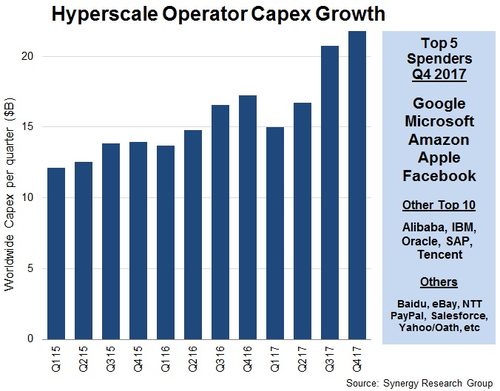 Capex spending is a big reason why other companies fail to compete with the big hyperscale providers, John Dinsdale, Synergy chief analyst and research director, said in the company's statement.
"The capex analysis emphasizes the biggest reason why those cloud providers are so difficult to challenge," he said. "Can you afford to pump at least a billion dollars a quarter into your data center capex budget? If you can't, then your ability to meaningfully compete with the market leaders is severely limited. Of course factors other than capex are at play, but the basic financial table stakes are enormous."
Meanwhile, revenue in the worldwide server market increased 26.4% year-over-year to $20.7 billion in the fourth quarter of 2017, with the server market continuing to gain momentum, according to a report from IDC released this week.
"While demand from cloud service providers has propped up overall market performance, other areas of the server market continue to show growth now as well. Worldwide server shipments increased 10.8% year over year to 2.84 million units in 4Q17," according to a statement from IDC.
Of individual vendors, HPE and the New H3C Group were tied for first place in revenue, at $3.8 billion each, and market share, at $18.4%. Dell came in second at $3.6 billion and 17.5%, with IBM third at $2.7 billion and 13%.
After that, Lenovo had $1 billion and 5.3%, Cisco at $1 billion and 5.1%.
However, the top two market share categories were ODM Direct, at $4.2 billion or 20.6%, and others, at $4.2 billion or 20.2%.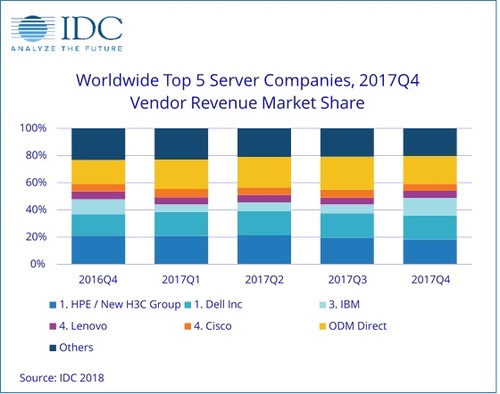 Related posts:
— Mitch Wagner




Editor, Enterprise Cloud News