Even the cloud has to run on physical hardware.

Within IBM, this rather obvious fact of cloud computing is what keeps John Considine, the general manager of the company's cloud Infrastructure business, busy. The former CTO of Verizon Terremark and founder of the cloud management vendor CloudSwitch, Considine now oversees strategy, development and management of Big Blue's public cloud business, which includes more than 50 data centers across the globe. (See Verizon to Buy CloudSwitch.)

While IBM has done well in the private cloud market, it's the public cloud that's growing -- nearly double last year -- with more growth on the way, according to recent reports from Synergy Research Group and other firms. (See AWS Maintains Its Public Cloud Dominance.)

Considine sees private cloud as a stepping stone toward either a full public cloud plan, or the hybrid model that many are embracing now. And that shift in computing requires hardware -- lots of it -- which is where Considine's job gets interesting.

"All of these advanced services have to run on real servers, and that's real data with real storage and real networking and by making the massive investments we are making with our infrastructure, those higher level services are enabled more, they have better performance and have better cost," Considine told Enterprise Cloud News in an interview. "We can deliver more capabilities and more locations and so really infrastructure matters a lot."

A 'billion' reasons to invest
In addition to IBM's 50 current cloud data centers, Considine plans on making major investments in infrastructure throughout 2017 to support a number of different initiatives, including cognitive computing plans, artificial intelligence and Infrastructure-as-a-Service (IaaS).

Considine is measuring those investments "in the billions," although he declined to offer a specific dollar amount. An IBM spokeswoman also declined to give specifics.

However, a look at the company's financials shows how much it can invest. Like other big tech firms, IBM doesn't specifically break out its cloud revenues.

Instead, IBM does offer a line item in its financial reports called Technology Services & Cloud Platforms. In its fourth quarter report, IBM reported revenue of $9.3 billion in this section, an increase from the $9.1 billion it reported the year ago. For 2016, IBM posted revenue of $35.3 billion.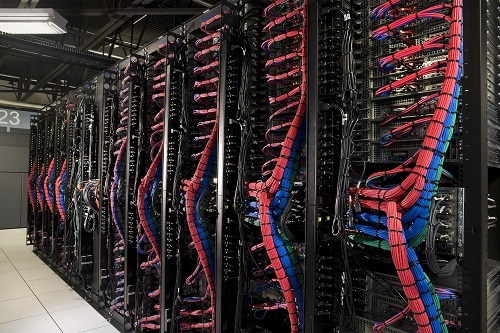 Charles King, an analyst with Pund-IT Research, sees IBM taking a different tack than Google and Amazon when it comes to building clouds. Unlike those two juggernauts, which are building out massive facilities, King said IBM is building smaller, regional data centers that target specific needs or conform to local laws and regulations, such as the European Union.

"IBM's traditional customers are among the world's largest enterprises," said King. "Instead of following a single cloud model, the company develops cloud services designed to meet the specific business requirements of IBM clients. That's quite different than offering overarching, generalized solutions that include features few businesses really need."

Considine reflected that sentiment in the interview: "It's not a build it and they will come, this is driven by demand for our infrastructure."

However, IBM greatest strength -- it's deep relations to the largest enterprises -- has also hurt it in the cloud race. Since the cloud is about "democratizing" IT, King said, Google and Amazon Web Services have done a better job of appealing to smaller business that see the cloud as a way to save money and grow.

"IBM has a worked hard to take its offerings down market and to develop other kinds of relationships and they have a lot of work to do there," King said.

Last week, IBM again showed its flair for big deals. At its InterConnect show, the company inked a deal with China's Dalian Wanda Group to provide cloud services in that country. (See IBM Cloud Targets Financial Services Developers .)

Customer demands
Despite customer perception and competition that also includes Microsoft and Oracle, IBM is looking at a future where the cloud forms the basis for several other technologies, including its much-talked about cognitive computing -- Watson -- as well as AI, Internet of Things and the development of whole new sets of APIs to make these technologies work. (See Always 'Just Around the Corner,' AI Finally Arrives.)
Don Boulia, general manager of Cloud Developer Services, works on issues related to Platform-as-a-Service (PaaS), as well as developers and DevOps. What he builds typically sits on top of the infrastructure Considine is investing in.
When Boulia talks to customers, he sees a world shifting to the cloud on one side, but still locked into traditional data centers on the other. This data, which is stored in legacy systems, has value even if enterprises are not sure if it should stay or move to the cloud.
IBM is trying to bridge that gap.
"A lot of interesting data is sitting back in the enterprise," Boulia said in an interview at IBM's SoHo offices in New York City. "So if I'm a bank, for example, I probably haven't moved all my banking systems out to a cloud and I probably have them in a traditional data center, but that doesn't mean I don't want to access all of those things and get value of those things out in the cloud. So what we see people doing is putting in an API layer in front of their private cloud or their private assets and exposing those out to other kinds of cloud environments."
To achieve these results, it's about wringing as much efficiency out of the system as possible. When investing in the infrastructure, Considine is taking that into consideration.
"We want efficiency at every layer," Considine said. "That covers data center design, power, cooling, redundant power… right to the next level up and utilization. That's what you need to deliver hyperscale public cloud infrastructure."
Related posts:
— Scott Ferguson, Editor, Enterprise Cloud News. Follow him on Twitter @sferguson_LR.