IBM: We're Beating Red Hat Private Cloud Growth

Comment (0)
IBM celebrated the one-year anniversary of its Cloud Private platform with a brag that it's already nearly grown as big as Red Hat's OpenShift, which is years older.
That's going to make things awkward during meetings between the two companies, who are both competitors and partners. Tip for IBM Corp. (NYSE: IBM): Donuts make everything nicer.
Cloud Private is a software stack based on Kubernetes, along with operational and management services for metrics and dashboards such as the open source Prometheus and Grafana, as well as containerized MQ messaging, open source DevOps tools such as Jenkins and Mongo, and WebSphere and Watson AI tools. Cloud Private is designed to give developers everything they need to get up and running with cloud applications, Robin Hernandez, director, IBM Private Cloud Offering Management, tells Light Reading. (See IBM Boosts Cloud Private AI.)
The software runs on bare metal, virtual machines, OpenStack, the IBM Z Series mainframe, Power Systems servers and public cloud infrastructures.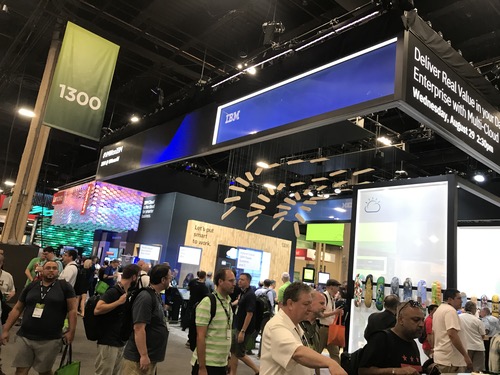 ---
Now entering its fifth year, the 2020 Vision Executive Summit is an exclusive meeting of global CSP executives focused on navigating the disruptive forces at work in telecom today. Join us in Lisbon on December 4-6 to meet with fellow experts as we define the future of next-gen communications and how to make it profitable.
---
IBM has "hundreds" of Cloud Private customers, close to Red Hat Inc. (NYSE: RHT)'s 600 customers on its competing OpenShift private cloud platform. That's despite IBM's software having been out less than a year and Red Hat's having been available nearly four years, Hernandez brags. (See IBM Cloud Private Extends Big Blue's Hybrid Reach
Though, to be fair to Red Hat, during the early days of OpenShift, both Kubernetes and private cloud were new and had user hostility to overcome. IBM launched at a time when the ground was already broken -- by companies including Red Hat.
IBM's customer sweet spot is enterprises in financial services and other regulated industries, such as federal and airlines, Hernandez says. Smaller businesses are using Cloud Private as well, including the New Zealand Police Department. The software is being used in areas of Europe and Asia where regulations require that software and data reside within national borders, she says
Red Hat isn't just a competitor for IBM; they're also partners. IBM puts its management and content catalog layer on Red Hat's Kubernetes distro. (See Microsoft & IBM Partner With Red Hat: Why You Should Care and Red Hat Partners With Microsoft & IBM for Hybrid Cloud Power.)
In addition to bragging about growth and celebrating the (approximate) one-year anniversary of Cloud Private, IBM introduced a couple of new features Thursday: support for Watson Speech-to-Text, the first time that tool is available on-premises, to transcribe and analyze audio from seven different languages. Also, IBM Watson Assistant is available on IBM Cloud Private, to help developers and non-technical users create conversational AI solutions, from simple chatbots to complex enterprise-grade systems for customer service.
For its part, Red Hat launched the OpenShift Container Platform 3.11 on Wednesday, integrating technologies for day-to-day operations that Red Hat acquired when it bought CoreOS this year. These include support for the CoreOS Tectonic administrator console to make managing clouds easier. OpenShift also supports metrics and alerts with the Prometheus open source project, Grafana dashboards, and Kubernetes-native applications and services called "operators."
Related posts: