IBM and VMware are looking are expanding their two-year-old cloud partnership further with additional features and support, as well as partnership and agreements with SAP and Vodafone to provide additional services.
As cloud computing moves to more hybrid and multi-cloud deployments, enterprises are looking for better ways to manage their workloads and applications as they move from on-premises data center, to the cloud and possibly back again.
This is one reason why VMware finds itself in the position of sought-after partner as cloud service providers such as Amazon Web Services and Google Cloud Platfrom look to offer more enterprise features and management capabilities to customers. At its VMWorld conference in Las Vegas earlier this month, VMware and AWS formalized their own agreement. (See VMware Launches Amazon Cloud Support.)
At the same time, VMware is expanding beyond its roots into virtualization to offer more services in the cloud, especially within hybrid environments of mixed private and public clouds. (See Following Amazon Partnership, VMware Is a Cloud Company Now.)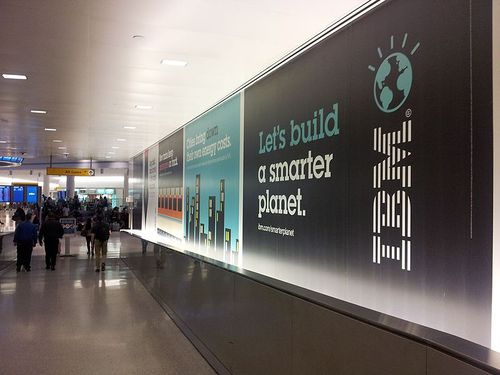 IBM, which is far behind AWS in the public cloud game, but still a presence in private cloud deployments and services, is looking to strengthen its ties to VMware as well. (See AWS, Despite Slowdown, Reigns Over Cloud Market – Report.)
At the start of the VMWorld Europe 2017 conference on Tuesday, IBM and VMware plan announce a series of new feature and additions to their portfolio, which now includes 1,400 customers running VMware workloads within the IBM Cloud.
As part of the customer push, the two companies plan to announce that Honeywell International, along with Vodafone, are now using the IBM Cloud and VMware services.
---
Keep up with the latest enterprise cloud news and insights. Sign up for the weekly Enterprise Cloud News newsletter.
---
In addition, IBM and VMware are also announcing:
IBM support for VMware HCX technology, which allows applications to move between VMware environments and the IBM Cloud. The agreement also allows customers to use VMware's software-defined data center (SDDC) products.
The two companies will support VMware's Horizon Cloud Service for desktop and application cloud deployments. IBM will start offering customers this services through its cloud in the fourth quarter, which allows enterprises to create desktop-as-a-service deployments.
The IBM Cloud will now carry VMware's Cloud Verified certificate.
IBM also plans to start supporting F5 Network's BIG-IP virtual suite and Fortinet's FortiGate NGFW virtual appliance within its cloud and allow those offerings to integrate with various VMware products.
As part of its customer agreement, Vodafone will allow VMware-based workloads to move from the company's Hosted Private Cloud platform to and from the IBM Cloud. This should increase the ability for customers to deploy hybrid models.
Finally, IBM and SAP plan to announce support for bare-metal servers running within the IBM Cloud, which can support large and memory-intensive workloads, such as the in-memory HANA service. The agreement will also offer new configurations that are supported on VMware.
IBM and VMware have a partnership that dates to 2016, and the companies announced an expansion of their channel partnership in February. (See IBM, VMware Cement Cloud Partnership.)
These various partnership, including with IBM and AWS, have increased VMware's value over the last several months, with the company moving past offering only virtualization. It's one the reasons why VMware has posted several quarters of impressive growth. (See VMware's Cloud Momentum Continues Through Q2.)
Related posts:
— Scott Ferguson, Editor, Enterprise Cloud News. Follow him on Twitter @sferguson_LR.