IBM Loans Cloud Power to Community Grid

Comment (1)
The World Community Grid, which helps funnel spare compute power from laptops and smartphones to researchers and scientists, has moved its entire infrastructure to IBM's Bluemix public cloud.
Founded in 2004 by IBM's own philanthropic division, World Community Grid (WCG) had been running its operations from a traditional center for the last 13 years. Each day, the charity manages the compute contributions from 3.4 million devices that help fuel some 2.5 million "virtual" experiments that are being conducted at any given time.
Since its founding, WCG has been involved in a nearly 30 significant research projects that run the gamut from cancer and HIV/AIDS research, to sustainable energy, to clean water projects.
However, as technology has changed over the last decade, so have the needs of WCG. Two years ago, the non-profit began exploring if moving to the cloud would help it meet its current needs, said Juan Hindo, a program manager at the charity.
"The model is very scalable in that there is no shortage of volunteers who can volunteer and participate in the program, but we didn't have that level of flexibility with our infrastructure … we were looking for something that could give us a way to scale up and down and be a lot more responsive to the needs of our researchers and our volunteers by having an infrastructure that was as scalable as our volunteers are," Hindo told Enterprise Cloud News.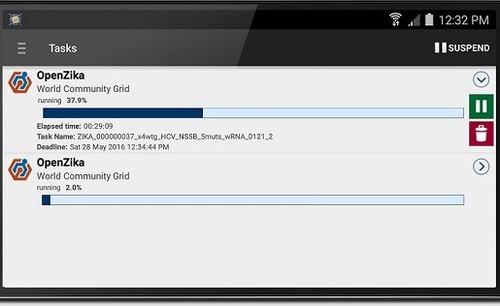 One reason the cloud made sense is flexibility and being able to tap into resources as needed. "Essentially we had to do a lot of forecasting and we had to make a lot of assumption of what infrastructure needs we would require going forward," said Hindo.
Sometimes WCG is asked to help with research that it had not previously planned to work on. One example, Hindo said, was the outbreak of the Zika virus in early 2016, which required a fast response from the research community and something that WCG had not been planned for in advance.
At the same time, WCG wanted to expand its own infrastructure with modern practices, such as using DevOps methods to help create and deploy software faster.
It would seem obvious that an IBM charity run through its Corporate Citizenship division would only have one choice when it came to the cloud -- namely Big Blue's own. However, Hindo said in the interview that WCG decided on its own it needed the cloud and could have picked another service provider if it wanted.
In the end, WCG decided to keep it all within the IBM family.
---
M&A activity is turning the cloud upside down. Find out what you need to know in our special report: Mergers, Acquisitions & IPOs Are Rocking the Cloud.
---
"We do have the flexibility externally if we wanted to and whenever we are making decisions about what technologies we use, we evaluate what IBM has to offer with what else is on the market and we make a decision based on what is best for our needs," said Hindo.
Overall, it took about six to nine months of work to get the infrastructure ready to move, especially since the organization wanted to use more DevOps methods in its application development. The organization uses a mix of IBM applications, as well as open source tools along with virtual and physical machines.
After that, it was about three months of work to move WCG's infrastructure to the cloud. The charity has been running now for the last week or so solely within the cloud, although it's too soon to say if there's been significant performance improvements yet.
"In my 15 years in IT, it was one of the smoothest transitions I have seen," Hindo said.
Related posts:
— Scott Ferguson, Editor, Enterprise Cloud News. Follow him on Twitter @sferguson_LR.