Lost amid the torrent of announcements from CES last week, new research finds what many have come to realize: The pace of cloud computing adoption is accelerating and it's expected to speed up even more in 2017.
The global cloud computing market brought in about $148 billion in revenues for various vendors that are offering public, private and hosted cloud technologies, over a four-quarter time period that ended in September 2016, according to a report from Synergy Research Group Inc.
That's a 25% annual growth rate, and the potential for even greater growth seems assured.
While there's plenty of money to go around, the biggest winner, and the main growth area, is the combined infrastructure-as-a-service (IaaS) and platform-as-a-service (PaaS) market. Revenues for this category grew at a 53% rate during the 12-month period which ended in September 2016, according to Synergy.
The other big winners also included hosted private cloud -- 35% growth rate -- and software-as-a-service (SaaS), which grew at 34% annual rate.
In terms of the top vendors, Amazon Web Services Inc. and Microsoft Corp. (Nasdaq: MSFT) through its Azure platform dominated the combined IaaS and PaaS market, while Google (Nasdaq: GOOG) and IBM Corp. (NYSE: IBM) were the top suppliers to the hosted private cloud segment.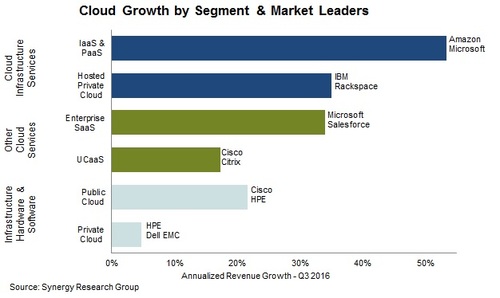 Microsoft also showed up again as a leader in the SaaS market, along with Salesforce.com Inc.
What all these numbers show is that many of the barriers to adopting cloud and hosted services, no matter what name they take or what technology enterprises are interested in purchasing, have started to fall in the last 12 to 18 months. This trend is only expected to accelerate in 2017. (See Hybrid Cloud Will Be a Battlefield & Other Cloud Predictions.)
"Major barriers to cloud adoption are now almost a thing of the past, especially on the public cloud side," Synergy's Chief Analyst Jeremy Duke wrote in a Jan. 3 release. "Cloud technologies are now generating massive revenues for technology vendors and cloud service providers and yet there are still many years of strong growth ahead."
Companies are also continuing to invest in the technology that supports the cloud. During the four-quarter period Synergy looked at, companies spent $65 billion spent on hardware and software to help build these infrastructures.
In addition to IaaS, PaaS, SaaS and private cloud, the Synergy report looked at the unified communications services market, finding a growth rate of about 20% during this time, with Cisco Systems Inc. (Nasdaq: CSCO) and Citrix Systems Inc. (Nasdaq: CTXS) as the two leading vendors.
Other markets include public cloud, which had a growth rate of little more than 20%, with Cisco and Hewlett Packard Enterprise leading the charge, and private cloud, which showed the least amount of growth -- less than 10% -- with HPE and Dell Enterprise as the two leading providers.
— Scott Ferguson, Editor, Enterprise Cloud. Follow him on Twitter @zdeferguson.