My hotel in San Francisco was... well... let's just say it didn't make a good first impression.
Nightly hotel rates in San Francisco start at "expensive" and scale quickly upward. So when I booked a hotel for the recent Google Next '17 cloud conference, I turned to Airbnb to get a better rate.
I don't have a lot of experience with Airbnb. I get nervous thinking about going to some random place to lie down and sleep in my underpants. I'm ready to flee to the comforting arms of Misters J.W. Marriott or Conrad Hilton.
But the best hotel rate I could find in San Francisco for the conference through conventional booking channels was $800-plus per night. Which was ridiculous. So I summoned my courage and booked through Airbnb.
What could go wrong?
In a message exchange with the host, I learned the room I rented was in an actual hotel, with a proper front desk. I was comforted by that; I didn't have to worry about dodgy security codes or looking for keys under doormats.
When I got to the place it was... austere.
The lobby was narrow and newly painted, with plain white paint. It looked like it could use another coat.
The front desk looked like the kind of place you'd see in a TV cop show. The TV cops are investigating the last known address of the murder victim ("vic"), a drug addict ("skell") who lived at a hotel with a front desk much like the one I faced for my two nights in San Francisco. The hotel clerk on the TV show is unshaven and wears a stained undershirt. He's reading a porno magazine, which he furtively hides when the cops arrive.
But that was not the scene I faced. That was my overactive imagination. The lobby was clean -- although plain -- and the desk clerk was a pleasant and helpful young man who kept whatever disreputable reading habits he had to himself.
Besides, this was San Francisco. San Franciscans don't hide their disreputable reading habits. They have book clubs to share their disreputable reading habits with others.
The clerk pointed me to this sheet stuck to the wall by the front desk for helpful information: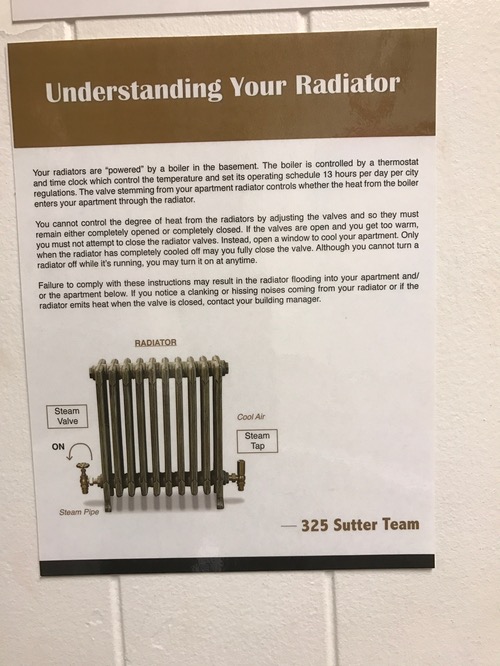 This being San Francisco, I thought a document titled "Understanding Your Radiator" might be about how I should create a safe space for the radiator's feelings. But it turned out to be an instruction sheet for using the radiator.
Next Page: The Terrifying Hallway