HPE has completed the spinoff of its Enterprise Services business and merged it with CSC to create DXC Technology, cutting its quarterly outlook in consequence.
The transaction will deliver about $13.5 billion in value to HPE and its stockholders, nearly 60% higher than when it was first announced last year, HPE says. Pre-merger HPE stockholders will hold 50.1% outstanding shares of DXC common stock, with the remainder held by pre-merger CSC stockholder. Total value for HPE stockholders is valued at about $9.5 billion.
Hewlett Packard Enterprise says services "remains core" to its strategy; the company will hang onto and continue to invest in Pointnext, its technology services organization with more than 25,000 specialists in 80 countries. Pointnext helps businesses speed adoption of emerging technologies, including cloud, hybrid IT, big data and analytics, the intelligent edge and Internet of Things. HPE will also maintain a strong relationship with DXC and other IT services companies.
HPE is also planning to spin off its software business to Micro Focus, leaving HPE with a core business focused on hardware, software, and services focused on hybrid IT -- the mix of traditional IT and cloud -- as well as multi-cloud, edge computing, and the software defined-data center. (See HPE Spins Software Business to Micro Focus for $8.8B .)
In its latest earnings report in late February, HPE reported net revenue of $11.4 billion, down 10% year-over-year. (See Cloud Rains on HPE Earnings)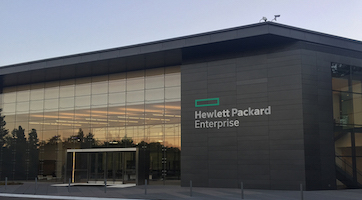 HPE adjusted its fiscal 2017 second-quarter and full-year outlook in connection with the services business no longer contributing to the bottom line. The company now expects fiscal 2017 second-quarter non-GAAP diluted net earnings per share to be $0.33 to $0.37, down from its prior outlook of $0.41 to $0.45, and fiscal 2017 non-GAAP diluted net EPS to be $1.46 to $1.56, down from its prior outlook of $1.88 to $1.98.
HPE traded at $17.33 Monday around noon, down 2%, after a roller-coaster morning.
Related posts:
— Mitch Wagner
Editor, Enterprise Cloud News