Hewlett Packard Enterprise will officially spin off its enterprise software division on August 21. The new firm -- SeattleSpin Co, Inc. -- will then merge with Micro Focus and then function as a subsidiary.
The entire deal is expected to close by September 1. The two companies announced the final phase of the deal on Friday.
The spinoff of the enterprise software group is the latest in a series of ongoing transitions for HPE, as the company looks to focus more on hybrid IT, which includes hardware, hybrid cloud and data infrastructures, and software-defined networking. (See HPE Spins Software Business to Micro Focus for $8.8B .)
At an event earlier this year, CEO Meg Whitman said the company also plans to focus on the intelligent edge, where data is collected from different connected devices and analyzed there instead of moving it back to the data center. This puts HPE within the realms not only of cloud computing, but also the Internet of Things and big data. (See Meg Whitman: HPE Is Ready to Expand Again.)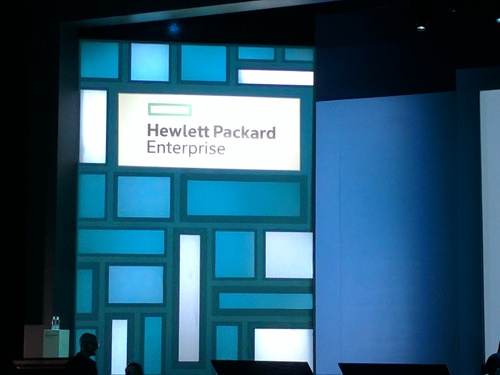 HPE has also focused more on acquisitions that fit within its new model, including deals for SGI, SimpliVity, Nimble Storage and Cloud Cruiser. (See HPE Goes All in With Hybrid IT.)
However, as one analyst noted previously to ECN: In order to get the new stuff, HPE had to get rid of the old stuff. This meant, in part, the $8.8 billion deal to spin off the enterprise software division into SeattleSpin, and then merge that with Micro Focus.
The deal with the UK-based Micro Focus will create one of the largest tech firms in Britain. When complete, Micro Focus will pick up HPE's Application Delivery Management, Big Data, Enterprise Security, Information Management & Governance and IT Operations Management businesses, which are being spun into the new SeattleSpin company.
---
Keep up with the latest enterprise cloud news and insights. Sign up for the weekly Enterprise Cloud News newsletter.
---
HPE previously spun off its computer services business and merged that with Computer Science Corp. Of course, this biggest change happened two years ago with the original Hewlett-Packard split into two: HP Inc., which took the PC and printer businesses, and HPE, which focused on the enterprise.
When the latest deal is done, HPE will be left with between 50,000 and 60,000 employees, down from a headcount of over 200,000 from a few years ago.
Despite all the deals and spinoffs, HPE posted a second-quarter loss of $612 million or $0.37 per share on May 31. Net revenue totaled $7.45 billion. (See HPE Posts Loss as Company Restructuring Continues.)
Related posts:
— Scott Ferguson, Editor, Enterprise Cloud News. Follow him on Twitter @sferguson_LR.