HPE Goes All in With Hybrid IT

Comment (1)
LAS VEGAS -- HPE Discover -- Hewlett Packard Enterprise (HPE) has been struggling with reorganizing and restructuring over the last several months, but the company is making sure it focuses on one part of the market despite the upheaval: hybrid cloud.
At its annual user show here, HPE detailed its plans to become the premier provider of hyperconverged infrastructure to customers looking to build a hybrid cloud platform.
Specifically, HPE focused on three updates to its hybrid IT and hyperconverged offerings:
An update to its SimpliVity acquisition;
Additional capabilities to its Synergy composable infrastructure, which allows IT to manage a data center through a pool of resources that is controlled by software; and
A new product dubbed Project New Stack, which provides a way to manage a hybrid infrastructure.
Ric Lewis, senior vice president and general manager of the company's Software-Defined and Cloud Group, spoke about how HPE is looking to simplify the complexity of an IT infrastructure that can include public and private cloud, virtual machines, as well as a traditional, bare-metal servers.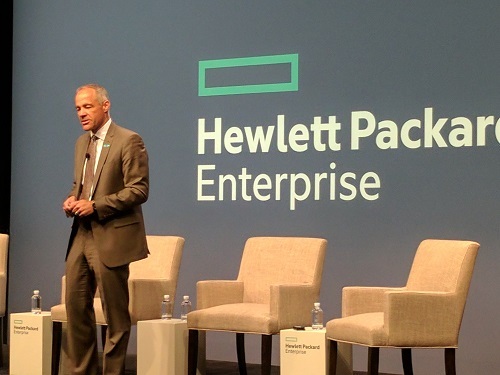 In his view, Lewis believes most enterprises will not fully move to a total public cloud infrastructure, but instead rely on traditional data center infrastructure, as well as building hybrid cloud that combine public and private platforms. The trick is to manage data, workloads and applications across all these platforms.
"The world is going to be hybrid for the foreseeable future," said Lewis. "Even if things tend to head to toward public cloud, even for enterprises that have said they are moving to the public cloud, they're not even more to the halfway point, and it's going to take them ten years to get there. So, companies are going to live in a hybrid environment, and the company that can help them succeed in the hybrid environment is going to win, and we want to be that company."
The first step in this is the company's SimpliVity acquisition, purchased earlier this year for its hyperconverged infrastructure offerings, which combine compute, storage and networking into preconfigured systems that are managed by software. Right now, the company has more than 2,000 customers, and the company will ship its technology either as a standalone appliance or with its new ProLiant Gen 10 servers later this year. (See HPE Buys SimpliVity for $650M in Hyperconverged Cloud Play.)
For its Synergy composable infrastructure, which HPE originally introduced in 2016, the company announced June 5 that it is planning to ship Synergy with its Gen 10 servers later this year. There's also improved software-defined storage capabilities, as well as security built into the silicon itself to prevent firmware attacks.
---
M&A activity is turning the cloud upside down. Find out what you need to know in our special report: Mergers, Acquisitions & IPOs Are Rocking the Cloud.
---
There's also a new set of features called OneView, a software-defined intelligence system that helps automate some tasks and allow developers to create apps.
The final piece is what HPE is calling Project New Stack, which will enter beta later this year and eventually be rebranded with a new name. The goal is to provide a way to manage applications and data across hybrid infrastructures, including ones that use traditional data center resources.
Project New Stack will ship as an appliance with a single control plan. This new product will offer on-demand provisioning of resources, as well as analytics to help enterprises move workloads around the infrastructure as needed. As with many of these other offerings, Project New Stack will allow developers to create apps and test these applications in real time within a secure environment.
Related posts:
— Scott Ferguson, Editor, Enterprise Cloud News. Follow him on Twitter @sferguson_LR.