How Long Will Oracle Just Tread Water?
Oracle reported a mix of good news and bad news for quarterly earnings Monday. The bad news is that Oracle's revenue and overall cloud growth is nearly flat, despite a booming cloud market.
The good news, the company says, is that its application growth is "spectacular," and it's got the pieces in place for its cloud database to revenue to take off in the coming year. And cloud applications -- particularly cloud Enterprise Resource Planning (ERP) -- and the cloud-based Autonomous Database are strategic to the future of the company, Larry Ellison, Oracle Corp. (Nasdaq: ORCL) chairman, CTO and co-founder, said Monday on the company's quarterly earnings call.
Oracle reported $9.6 billion in revenue for the quarter ending November 30, unchanged from the year-ago quarter. Total cloud services and license support, plus cloud license and on-premise license revenues were up 1% to $7.9 billion -- in a market where infrastructure cloud grew at 45%, according to the latest estimates from Synergy Research. (See Oracle Reports Q2 2019 Revenues $9.6B – Flat Year-Over-Year and Cloud Spending Growth Slows, While Big Providers Squeeze Little Guys Even Harder.)
Oracle crowed about its earnings-per-share growth -- up 19% in constant currency, Oracle co-CEO Safra Catz said in a statement. The company declared a quarterly cash dividend of $0.19 per share. Non-GAAP earnings per share was up 16% to $0.80.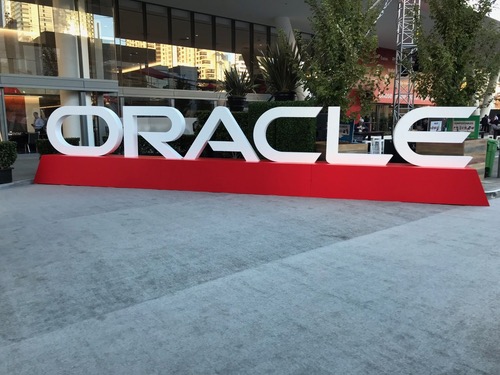 Oracle forecast revenue growth of 2% to 4% in constant currency for the third quarter, with higher revenue growth for the second half of the year, and higher constant currency growth for fiscal 2019 compared with the previous fiscal year, Catz said on the company's earnings call Monday. Non-GAAP EPS in US dollars is expected to grow 3% to 5%, to $0.83 % to $0.85.
Cloud applications is where the good news comes in. Oracle's two cloud ERP businesses, Fusion ERP and NetSuite ERP, grew at a combined rate of 32%, Oracle co-CEO Mark Hurd said in a statement.
"Solid quarter for us top to bottom," Hurd said on the earnings call. "Apps had a spectacular quarter." The entire apps ecosystem grew 7%, to more than $11 billion for the trailing 12 months, with 91% of that recurring revenue. "We continue to grow faster than the market, with an enormous opportunity ahead of us, particularly in ERP as well as [Human Capital Management] HCM."
Overall, ERP and HCM annualized software-as-a-service (SaaS) revenue was $2.6 billion, up in the mid-20s percent, Hurd said. Fusion apps revenue growth was 34%, while Fusion ERP revenue growth was 44%. NetSuite ERP revenue grew 25%. Vertical applications revenue grew 35%, for annualized revenue of about $800 million.
Additionally, Autonomous Database saw more than 1,000 trial activations per month, while Cloud at Customer, an on-premises server running Oracle cloud software, saw revenue up triple digits, with booking growth in the low 40% range, Hurd said.
"The strength of our bookings growth along with climbing revenue rates gives me confidence that our cloud apps business is only -- only! -- going to strengthen from here," Hurd said (emphasis his). "If I'm not being clear, this is perhaps the best apps quarter we had, just in terms of breadth of bookings across the portfolio."
"Two strategic products will determine the future of company," namely cloud ERP and the Autonomous Database, Ellison said. Oracle expects to increase its existing 50% database market share, with millions of Oracle customers moving to the Oracle cloud, Ellison said. He also expects Oracle to become the "world's largest application company."
Oracle's database cloud growth has been held back by the need to run on a "first-class cloud infrastructure," Ellison said. "We finally have that now with our Generation 2 cloud, and you'll see rapid migration from on-prem to Oracle Public Cloud and Oracle Cloud at Customer."
Oracle is now running thousands of Oracle Autonomous Database trials, and those customers will be able to move from on-prem to Oracle Autonomous Database in the cloud quickly. "It's not a technology upgrade -- it's just an update," he said.
And of course Ellison used the earnings call soapbox to trash Amazon Web Services Inc. . He can't miss an opportunity for that. (See Oracle's Ellison: No 'Normal Person' Would Move From Us to Amazon.)
Related posts:
— Mitch Wagner



Executive Editor, Light Reading
PARTNER PERSPECTIVES
- content from our sponsors