Google Cloud CEO Diane Greene is stepping down, to be replaced by Thomas Kurian, a 22-year Oracle veteran, Greene announced Friday.
"When I joined Google full-time to run Cloud in December 2015, I told my family and friends that it would be for two years. Now, after an unbelievably stimulating and productive three years, it's time to turn to the passions I've long had around mentoring and education," Greene says in a post on the Google (Nasdaq: GOOG) Cloud Blog.
Kurian will join Google Cloud Nov. 26 and will transition to leading the business early next year, Greene says. Kurian previously served as president of product development at Oracle Corp. (Nasdaq: ORCL), and interviewed for the Google job with Greene, Google CEO Sundar Pichai and Urs Hölzle, Google senior VP of technical infrastructure and Google Fellow.
Greene, who co-founded VMware Inc. (NYSE: VMW) many years ago, says that during her time as Google Cloud CEO, the platform went from "only two significant customers and a collection of startups to having major Fortune 1,000 enterprises betting their future on Google Cloud." Also during that time, Google integrated sales, marketing, Google Cloud Platform and G Suite into a single portfolio, she says.
Indeed, Greene's tenure at Google Cloud has been quite successful. The company had essentially no presence in the enterprise when she took charge. Google's very business model made it enterprise-hostile -- Google services are self-service, while enterprises require plenty of hand-holding.
Now, Google is taken seriously as one of the top three enterprise cloud players, mentioned in the same breath as Amazon Web Services Inc. and Microsoft Azure .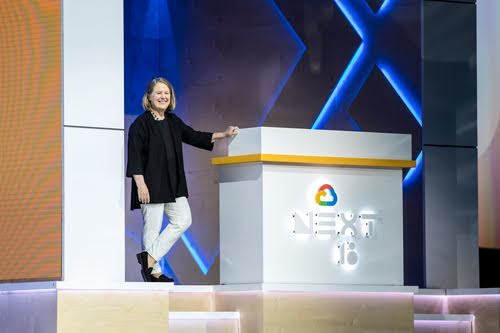 ---
Now entering its fifth year, the 2020 Vision Executive Summit is an exclusive meeting of global CSP executives focused on navigating the disruptive forces at work in telecom today. Join us in Lisbon on December 4-6 to meet with fellow experts as we define the future of next-gen communications and how to make it profitable.
---
In her blog post, Greene uses that old business cliche to describe Kurian's challenge: taking the business "to the next level." The cliche is apt here -- while Google Cloud achieved great things under Greene, it still lags in market share behind AWS, fast-growing Microsoft and even behind IBM, which is losing market share slowly, according to a quarterly report by Synergy Research. (See Cloud Spending Growth Slows, While Big Providers Squeeze Little Guys Even Harder.)
In its earnings call last month, Google parent Alphabet Inc. gave less information than it had previously on the size and growth of its cloud unit, CNBC reports. Pichai said in February that total cloud business was generating more than $1 billion revenue per quarter and was likely growing faster than any of its rivals; but he declined to provide an update in October, saying only that he was seeing "strong indicators" that the investment was paying off, and enterprise wins would "turn into larger revenue deals over time." Analysts found the lack of details discouraging. (See Google: Cloud Computing Is Still a Prime Investment Target and Google Cloud, Fastest Growing of Them All.)
Kurian is, at first glance, a puzzling choice to take over Google Cloud; while Google has been making great strides forward in the enterprise, Oracle has been moving backwards, struggling to hang on to market share and seeing its cloud revenue fail to track the booming cloud market -- not even close. In its most recent quarterly revenue report in September, Oracle reported cloud services and licenses revenue of $6.6 billion, up 3%, with overall revenue of $9.1 billion, up 1%. By comparison, the overall cloud market was growing at 50% year-over-year at that time. (See Oracle Cloud Sputters, as CEO High-Fives Herself Over Earnings.)
However, Kurian spent more than two decades at Oracle and for all but the last few years, Oracle dominated the enterprise market. Perhaps Oracle's recent troubles are despite Kurian, not because of him.
Indeed, Kurian left Oracle in September, reportedly after clashing with co-founder/CTO Larry Ellison. While at Oracle, Kurian reportedly wanted to make the company more open -- in particular, running its apps on public clouds such as AWS and Microsoft Azure -- which was the nature of his clash with Ellison. Ellison hates AWS, and devotes much of his public presentations to ridiculing them; with AWS occasionally returning the favor. (See 'Keep Talkin' Larry' – AWS CEO Trolls Oracle's Ellison, as Amazon Dumps Oracle and Oracle's Ellison: Amazon & SAP Use Our Database Because We're Better.)
What's next for Greene?
She says she will remain on the Alphabet board, and will focus on mentoring, to include "investing in and helping female founder CEOs who have engineering and science backgrounds. I want to encourage every woman engineer and scientist to think in terms of building their own company someday. The world will be a better place with more female founder CEOs." In education, she will focus on combining "technology with in-person teaching to make high-quality education that is low-cost, scalable and personalized."
Greene joined Google after her previous startup, Bebop, was acquired in 2015. At the time Greene took over Google's enterprise cloud business, Hölzle said he wants to see that business grow bigger than Google's advertising business by 2020. (See Google Makes VMware Co-Founder Cloud Boss.)
That would effectively transform Google from a consumer ad company to an enterprise provider. Kurian has a big job ahead of him.
Related posts:
— Mitch Wagner




Executive Editor, Light Reading