Ford is acting more and more like a cloud computing company these days as opposed to the iconic car company of the last 100 years. The automaker announced this week that it will pour $200 million into a data center in Michigan that will support its connected vehicle and mobile investments.
The Michigan data center is part of a larger Ford investment of $1.2 billion in that state that not only includes support for manufacturing its traditional truck and car lines, but also money for more connected vehicles.
Ford expects its own data usage to increase by 1,000% over the next several years as the company collects more and more information from its fleet of connected vehicles. All that data needs to be collected, analyzed and stored, and then re-sent back to the vehicle. This means building a data center with cloud capabilities is a necessary investment even for an automaker.
"As Ford expands to be both an automotive and mobility company, the company's data storage requirements are expected to increase from 13 petabytes today to more than 200 petabytes in 2021. This is especially true as Ford grows its leadership in connectivity, autonomous vehicles, electrification and mobility services," according to a March 28 statement.
The connected car market is expected to grow to $141 billion by 2020, which translates to a compound annual growth rate (CAGR) of nearly 33% between 2014 and 2020, according to a recent report from Allied Market Research.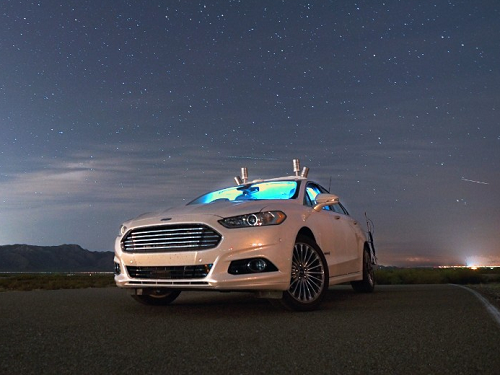 For carmakers such as Ford, the issue is whether it will partner with technology companies to produce this new generation of connected cars, or strike out its own and essentially transform itself into a technology company, which means that its competition is as much Google as it is General Motors.
In recent weeks, Microsoft announced that it would open its patent portfolio to automakers to apply the company's technologies to connected cars and autonomous vehicles. Toyota was the first to sign up. (See Microsoft Using Patents to Gain Edge in Connected Cars.)
In addition, Intel inked a deal to acquire Mobileye for $15.3 billion. The two companies are looking to combine their talents in the data center and cloud with sensors placed in cars to make vehicle more responsive and safer on the road, especially as they start driving themselves. (See Intel, Mobileye $15.3B deal has cloud under the hood.)
For the past several years, Ford has vested billions in its own technology capabilities.
At times, it has partnered with tech companies, such as Microsoft, to develop capabilities such as Ford Sync. In the last two years, it has started a number of other technology initiatives, ranging from Ford Smart Mobility, which uses technology to improve the customer experience, to other plans that involve software development and even smart homes.
No matter what path it's taking, Ford is now a technology company, and one where the cloud is key to its future success.
Related posts:
— Scott Ferguson, Editor, Enterprise Cloud News. Follow him on Twitter @sferguson_LR.