Following Amazon Partnership, VMware Is a Cloud Company Now
VMware's partnership with Amazon, and its other announcements last week, shift VMware's focus from the on-premises enterprise data center to the cloud.
Even as recently as a year ago, VMware seemed like a data center virtualization company with an additional cloud business. Now, VMware's focus is the cloud (and mobility), providing services to enterprises looking to unite on-premises infrastructure with multiple public clouds, built on a foundation of VMware's data center virtualization software.
VMware's multi-cloud strategy is based on giving enterprises the ability to run virtualized workloads that extend from their own data centers to public or private clouds from any of 4,500 cloud providers in the VMware Cloud Partner Program.
The VMWare Cloud Partner Program was previously known as vCloud Air Network; VMware changed its name last week, Ajay Patel, senior vice president and general manager for the VMware Cloud Provider Business Unit, tells Enterprise Cloud News.
Normally, brand changes are completely uninteresting, however this one is worth noting because the old brand was confusing, whereas the name "VMware Cloud Partner Program" says exactly what it is. (Kind of like a site about enterprise cloud news called "Enterprise Cloud News.")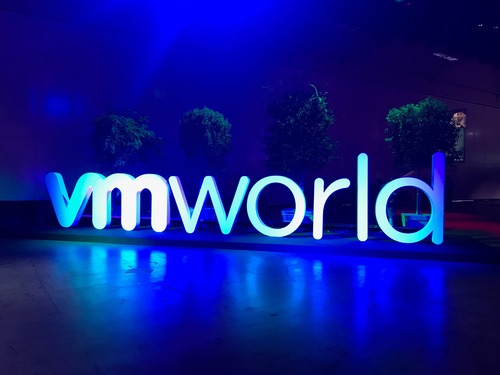 Companies in the partner program include IBM, which was a marquee partnership with VMware launched in late August 2016. (See VMware Seeks Cloud Dominance by Building Bridges.)
The Amazon partnership, announced last week, is called VMWare Cloud on AWS, and is not part of the VMware Cloud Partner Program. (See VMware Launches Amazon Cloud Support.)
But they're very similar except for one big difference: VMware sells and supports its own software on AWS, while IBM sells and supports VMware software running on its cloud, as do other partners in the VMware Cloud Partner Program.
"AWS has little interest in running VMware cloud installations," Patel says. "They want to run bare metal. They want to run an elastic cloud infrastructure."
AWS and the clouds in the VMWare Cloud Partner Program (including IBM) run a stack comprising vSphere for compute, NSX for network and vSAN storage virtualization. The stack is called VMware Cloud Foundation, announced a year ago at the same time as the IBM partnership.
Other partners in the VMWare Cloud Partner Program include OVH, Rackspace, CenturyLink and Fujitsu. OVH bought VMware's own public cloud service, vCloud Air, in April. (See OVH Looks to Invade US, Buys VMware vCloud Air.)
Separately, Amazon last week announced a partnership with Pivotal and Google, to run Pivotal's Kubo and Kubernetes for container orchestration on VMware virtualization software, with Google contributing community and open source. Pivotal brings enterprise grade lifecycle management for Kubernetes, Patel said. (See VMware & Google Hook Up Kubernetes for Enterprise .)
VMware is part of a trend of enterprise infrastructure providers making the transition to public cloud and vice versa -- public cloud providers looking to extend their infrastructure into the enterprise. Cisco recently extended its software-defined networking (SDN) architecture, called Application Centric Infrastructure (AACI), to AWS, so network operators can use the same tools to manage their on-premises hardware networks and AWS virtual networks. And Microsoft is shipping Azure cloud software on a hardware appliance, Azure Stack, to run on premises. (See 'Hey! You Got Public Cloud on My Premises!'.)
Related posts:
— Mitch Wagner
Editor, Enterprise Cloud News
---
CALLING ALL CLOUD, NFV AND SDN COMPANIES: Make sure your company and services are listed free of charge at Virtuapedia, the comprehensive set of searchable databases covering the companies, products, industry organizations and people that are directly involved in defining and shaping the virtualization industry.
---