Dell Reports $214B Revenue, Up 19%

6/4/2018

Comment (0)

ROUND ROCK, Texas –
News summary
Strong quarter with revenue of $21.4 billion, up 19 percent 
Double-digit growth in commercial client, servers, storage and VMware 
First quarter of storage share gain since closing the EMC transaction 
Delivered cash flow from operations of $1.2 billion
Full story
Dell Technologies (NYSE:  DVMT) announces its fiscal 2019 first quarter results. For the first quarter, revenue was $21.4 billion, up 19 percent, and non-GAAP revenue was $21.5 billion, up 17 percent from the prior period. During the quarter, the company generated a GAAP operating loss of $153 million1, with a non-GAAP operating income of $2.0 billion, up 42 percent.
"We had a strong first quarter with balanced growth across all business units, regions, and customer segments," said Tom Sweet, chief financial officer, Dell Technologies. "Our broad set of capabilities, enhanced by our targeted investments over the last year, drove strong top-line momentum and improved profitability, allowing us to generate good operating cash flow and make progress paying down our core debt2."
The company ended the quarter with a cash and investments balance of $21.7 billion, an increase of $1.4 billion from the prior quarter and an increase of $6.7 billion from last year. Cash generation in the first quarter was seasonally strong given the overall velocity in the business. During the first quarter, Dell Technologies paid down approximately $600 million of core debt, ending the quarter with a core debt balance of $39.8 billion. Subsequent to the end of the quarter, the company paid down another $2.5 billion of core debt bringing the gross debt paid down to $13 billion since the close of the EMC transaction. 
Fiscal first quarter 2019 results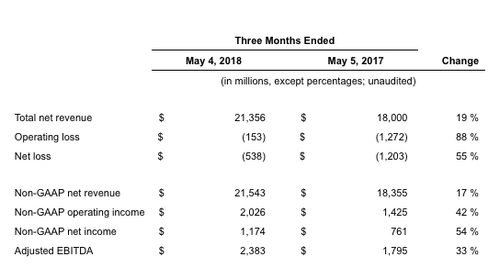 Dell Technologies' first quarter fiscal 2019 non-GAAP operating income excludes approximately $2.2 billion of adjustments, primarily related to purchase accounting and amortization of intangible assets.
"The great momentum we saw exiting last year for servers and commercial client continued through the first quarter. We gained share in PCs and servers during the first calendar quarter and, when the numbers are revealed, expect to gain share in storage, as well," said Jeff Clarke, vice-chairman, Products & Operations, Dell Technologies. "We're pleased but not satisfied and will continue focusing our energy and resources on what matters most to our customers."
Operating segments summary
Infrastructure Solutions Group revenue for the first quarter was $8.7 billion, a 25 percent increase. This was driven by 41 percent year-over-year growth in servers and networking to $4.6 billion and 10 percent growth in storage to $4.1 billion. Operating income was $939 million or 10.8 percent of revenue for the first quarter.
Key highlights: 
Sixth consecutive quarter of server revenue growth, driven by double-digit growth for both PowerEdge and Cloud servers 
Remained the worldwide share leader in x86 servers, for both units and revenue3
Strong demand for Dell EMC's market-leading hyper-converged portfolio, including triple-digit growth in its VxRail and VxRack offerings 
Following positive demand growth in its fiscal fourth quarter, Dell expects to gain share year-over-year in storage when the first calendar quarter 2018 storage industry share numbers are final. This will be its first quarter of storage share gain since closing the EMC transaction. 
"Storage systems spending is forecasted to grow 9.8 percent year-over-year in the first quarter of 2018 and we expect, when IDC releases first quarter market share, Dell EMC's storage business will outperform the market and gain share," said Matt Eastwood, senior vice president of IDC's enterprise, datacenter, cloud infrastructure and developer research groups.
Client Solutions Group revenue for the first quarter was $10.3 billion, up 14 percent versus the first quarter of last year. Commercial revenue grew 16 percent to $7.4 billion and Consumer revenue was up 7 percent to $2.9 billion. Operating income for the first quarter was $533 million, a 64 percent increase and was 5.2 percent of revenue.
Key highlights:  
Increased PC shipments by 6.4 percent year-over-year, with 21 consecutive quarters of year-over-year PC unit share growth4
Maintained No. 1 share position worldwide for displays, marking the 19th consecutive quarter5
No. 1 provider of workstations worldwide, outgrowing the industry4
VMware segment revenue for the first quarter was $2.0 billion, up 12 percent, with operating income of $613 million or 30.2 percent of revenue.
First quarter revenue from other businesses, including RSA, Pivotal, Secureworks, Virtustream and Boomi was $579 million, up 9 percent. 
Dell Technologies (Nasdaq: DELL)

(0) |