Folks at Teridion, a cloud networking startup, have a new boss. The company named Saar Gillai CEO. Gillai formerly headed up network virtualization for Hewlett Packard Enterprise (HPE).
Teridion's KumoX service speeds up information delivery from cloud application providers. Teridion is similar to a content delivery network (CDN) like Akamai Technologies Inc. (Nasdaq: AKAM), but whereas a CDN delivers video and other static content, Teridion's mission is to speed up personalized information. Customers include software as a service (SaaS) providers and e-commerce sites, such as cloud collaboration services Box and Egnyte, as well as Upthere, a document-sharing cloud service, according to a statement from Teridion's hiring announcement Tuesday.
The KumoX service frees SaaS providers from having to worry about building out network infrastructure, Gillai said in the company statement.
Four-year-old Teridion has raised $20 million to date and employs a little more than 50 people. Its R&D is in Israel and corporate offices, including marketing and sales, are in San Francisco.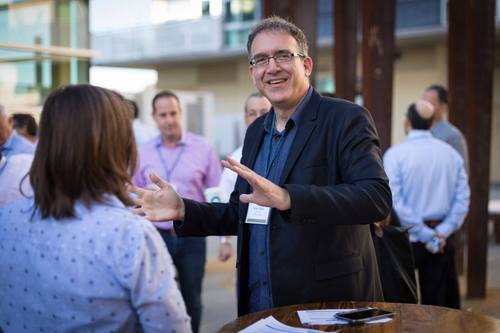 ---
Keep up with the latest enterprise cloud news and insights. Sign up for the weekly Enterprise Cloud News newsletter.
---
Teridion fills a need not served by conventional CDNs, which make extensive use of caching -- inappropriate for dynamic content provided by SaaS, Gillai tells Enterprise Cloud News in an interview.
SaaS providers traditionally solve their performance problems by building expensive points-of-presence to customers. "We obviate the need for that," Gillai says.
Teridion doesn't have its own network; it uses virtual machines on public clouds, which allows the company to be flexible, rather than hardwired, Gillai says.
Gillai worked until Nov. 2016 as senior vice president and general manager of Hewlett Packard Enterprise 's Communications Solutions Business, where he was focused on Network Functions Virtualization (NFV), an emerging technology used by telcos to shift networking functions from purpose-built hardware to virtualized software running on standardized equipment. Prior to that he was senior vice president and chief operating officer at HP Cloud, focused on market cloud. He joined HP via the acquisition of 3Com, where he was SVP of worldwide products and solutions and helped direct the company toward the enterprise.
Gillai's time at HPE was not without problems. European telco Telefónica SA (NYSE: TEF) named HPE as lead technology provider and systems integrator for its Unica network virtualization program, only to cancel the contract and re-issue the tender. (See Telefónica Ditches HPE as Virtualization Lead, Who Might Replace HPE at Telefónica?, HPE Will 'Continue to Work With Telefónica' on Unica, Telefónica Plots Unica Expansion.)
HPE also struggled to deliver on Swisscom AG (NYSE: SCM)'s virtualization needs. (See HPE Fails to Deliver at Swisscom – Sources.)
Gillai said Tuesday he could not speak for HPE, but that in general NFV has moved more slowly than advocates had anticipated. "That affected us as well as other people. It's not specific to us." (See Is NFV Stuck in the Terrible Twos?)
He added that HPE "still has a solid relationship with Telefónica."
HPE did not respond to a request for comment.
— Mitch Wagner




Editor, Enterprise Cloud News