Cloud Constellation Banks $100M for Space Laser Cloud Security
Cloud Constellation has pocketed a $100 million funding round for its plan to build a secure data cloud based on a network of satellites in low Earth orbit (LEO).
HCH Group Company, an investment firm based in Hong Kong, invested $100 million in Cloud Constellation's Series B equity round, Cloud Constellation said last week. That brings total funding to just under $120 million, with $80 million still uncommitted. (See Cloud Constellation Scores $100M Series B Funding for Space-Based Cloud Security.)
Cloud Constellation's SpaceBelt Data Security as a Service has been slow getting off the ground -- literally -- but $100 million is a big endorsement of the technology and business models.
Cloud Constellation plans to launch its satellite network and have it operational by the fourth quarter of 2021, Cliff Beek, Cloud Constellation CEO and president, tells Light Reading.
Cloud Constellation plans to secure data for Earthbound enterprises in space, away from where it can be intercepted by hackers. In some cases, the data itself would be stored onboard the satellites; in others, encryption keys would be stored there while the data itself resides Earthside, Beek says.
Data leaves Earth over radio frequencies to conventional geosynchronous satellites, and then in RF to Spacebelt's satellites, which communicate with each other using optical lasers. When it's time for data to return to Earth, it follows the same path in reverse -- Spacebelt to geosynchronous satellites to the ground.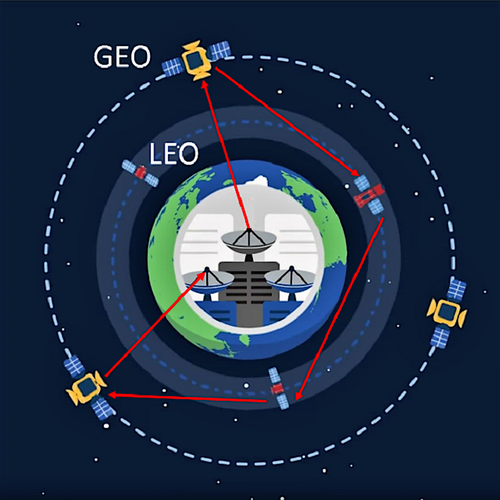 Cloud Constellation explains how it all works in this video:
Cloud Constellation cuts through regulatory red tape by working with conventional geosynchronous satellite operators such as Intelsat Ltd. , SES S.A. (Paris: SESG) and Arabat. "We don't have to file for regulatory approval in all of the countries," Beek said. "That's now trivial matter for any operator."
Applications for the service include government, military, finance, healthcare -- the usual list of enterprises requiring a high degree of security, Beek said.
We first talked with Cloud Constellation two years ago. At that time, they planned to go online in 2019. (See SpaceBelt Secures Cloud With Space Lasers.)
Those plans were overoptimistic, Beek says. Cloud Constellation overestimated industry expertise in building the types of satellites the company proposed. Existing manufacturers are expert at building satellites for geosynchronous orbit, much higher than the LEO birds that Cloud Constellation plans. Also, Cloud Constellation satellites are heavier and more complex than existing manufacturers are accustomed to building.
Cloud Constellation initially planned a network of 12 satellites, but has scaled that number down to eight upon determining that the smaller number of heavier satellites would be more effective, Beek said.
Related posts:
— Mitch Wagner



Executive Editor, Light Reading
PARTNER PERSPECTIVES
- content from our sponsors