The astronomical growth at Amazon Web Services appears to have slowed in the last few months, but the company remains in a class by itself in the public cloud market, and far ahead of all its competition combined, according to a new report.
In the first quarter of 2017, Microsoft, Google, IBM, Alibaba and Oracle all grew much faster than AWS, but Amazon's public cloud platform still controls 33% of the market and is bigger than all those other players put together, according to an April 27 report by Synergy Research Group.
The report comes on the same day that Amazon reported its first-quarter financial numbers for 2017. In that report, the company announced AWS grew 43% over the previous quarter, pulling in $3.66 billion in sales. That is slower growth compared to past quarters, but enough to still impress industry analysts and Wall Street. (See AWS Sales Still Impress Even With Small Slowdown.)
Despite the small slowdown, AWS remained the global leader in public infrastructure-as-a-service (IaaS), as well as platform-as-a-service (PaaS) in the first quarter of 2017, according to Synergy.
"At the top end of the cloud provider market we're now seeing a clear stratification featuring AWS, a group of higher-growth chasers, and a couple of more focused niche players," John Dinsdale, chief analyst and research director at Synergy, wrote in a statement.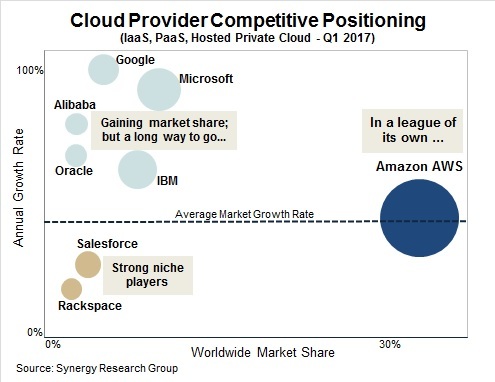 During the first quarter, worldwide revenue from IaaS, PaaS and other hosted private cloud services totaled $10 billion, and continues to grow at more than 40% annually.
While AWS dominates in terms of market share and revenue, the other major public cloud players continue to grow as well. Microsoft, Google and Alibaba all posted annual growth rates of 80% or more. Oracle and IBM continued to grow as well during the quarter.
---
M&A activity is turning the cloud upside down. Find out what you need to know in our special report: Mergers, Acquisitions & IPOs Are Rocking the Cloud.
---
In the public cloud, AWS, Microsoft and Google are considered the main three players, while IBM maintains a dominant spot in the hosted private cloud space. The Synergy report also found that Rackspace and Salesforce, while not as big as the others, remain strong players in their particular niche markets.
"Beyond those leading companies, the cloud market features a long tail of small-to-medium sized providers or companies that have only a minor position in the market, typically based on either a specific country or focused application area," Dinsdale wrote. "There are decent growth opportunities for some of these smaller players, but they are unlikely to make much impact in terms of overall worldwide market share.
Related posts:
— Scott Ferguson, Editor, Enterprise Cloud News. Follow him on Twitter @sferguson_LR.