AWS Launches 'Outposts' On-Prem Cloud Hardware, With VMware Help
Amazon Web Services is getting into the on-premises hardware business, with an assist from VMware.
The two companies brought their partnership full circle on Wednesday: After partnering on technology to bring VMware virtualization software to the AWS public cloud last year, they're now joining up to introduce "Outposts," hardware that brings the AWS cloud on-premises.
Users can choose to run either VMware private cloud software on Outposts, or use the native AWS APIs. Either way, users get a uniform experience bridging the public and private cloud, the vendors say.
The Amazon Web Services Inc. -VMware Inc. (NYSE: VMW) partnership is designed to help enterprises that have been slow moving to the public cloud, AWS CEO Andy Jassy said at a Wednesday keynote at the AWS re:Invent partner conference. "The longer they wait, the deeper the ditch gets," he said. (See AWS Launches 'Outposts' To Bring Its Cloud Infrastructure On-Prem.)
Some workloads will live on-premises for a long time -- for example, factory automation applications requiring low latency. AWS Outposts gives enterprises the ability to run compute and storage on-premises, while interacting seamlessly with AWS applications and services. "Customers order racks that have the same hardware that AWS is running on our regions," Jassy said.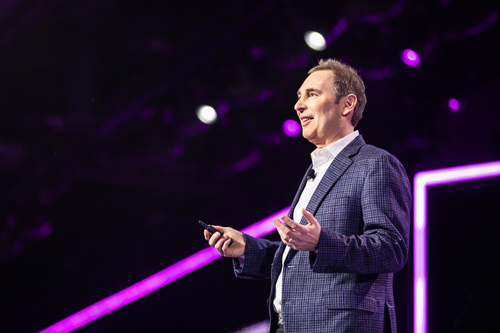 ---
Now entering its fifth year, the 2020 Vision Executive Summit is an exclusive meeting of global CSP executives focused on navigating the disruptive forces at work in telecom today. Join us in Lisbon on December 4-6 to meet with fellow experts as we define the future of next-gen communications and how to make it profitable.
---
VMware is bringing its VMware Cloud on AWS, introduced last year, which runs on the AWS public cloud, to AWS Outposts, said VMware CEO Pat Gelsinger, who joined Jassy on-stage Wednesday.
VMware cloud on AWS Outposts runs VMware's Software Defined Data Center (SDDC), comprising compute, storage and networking infrastructure, running on-premises and managed from the same console as VMware Cloud on AWS.
Additionally, VMware is launching Cloud Foundation for AWS EC2 instances, bringing VMware's vMotion and HCX workload migration to the Amazon public cloud.
AWS Outposts are in private preview, with public general availability in the second half of 2019, AWS says.
Outposts is not AWS' first foray into the private cloud. It previously offered "Snowball Edge," a hardware device running AWS software, ruggedized for harsh conditions -- such as factory floor -- and optimized for compute.
The major cloud providers are looking to on-premises hardware to bridge the gap between their public clouds and private data centers. Microsoft provides Azure Stack, which runs Azure infrastructure and platform software on on-premises hardware. (See Microsoft's Azure Stack Is Useful but Not for Everyone.)
And Google introduced GKE On-Prem in July. (See Google Debuts On-Prem Kubernetes Server.)
Meanwhile, Cisco is partnering with both Google and Amazon to bring those public clouds to private clouds running Cisco infrastructure. Cisco and Google partnered in July and Cisco and Amazon hooked up this month. (See Google Launches Cloud Services Platform, a Toolkit for Kubernetes & Serverless Apps, Cisco & Google's Kubernetes Partnership Could Deliver in October and Cisco & Amazon Bring Public Cloud On-Prem.)
Related posts:
— Mitch Wagner




Executive Editor, Light Reading
PARTNER PERSPECTIVES
- content from our sponsors