Amazon Web Service is the fastest-growing part of Amazon's business with sales climbing 42% year-over-year, signifying the cloud is increasing in importance for the company as its overall net income slowed in the second quarter.
Growth in North America was the second biggest sales driver behind AWS, at 28%, with traditional and consolidated sales growing more slowly. However, North America still accounted for more than half of AWS's net sales, or 58%, while AWS accounted for just 10% of Amazon's overall sales.
And AWS is actually growing slower than it was a year ago, when it saw 58% year-over-year growth.
AWS net sales were $4.1 billion, up from $2.9 billion in the year-ago quarter. Operating expenses for AWS were $3.2 billion, compared with $2.2 billion in the year-ago quarter, with operating income of $916 million, up from $718 million a year ago.
Amazon has been growing engineering and sales for both its AWS cloud business and advertising, which increased cost. Amazon has also seen a 71% increase in assets acquired under capital leases, mostly for the AWS business.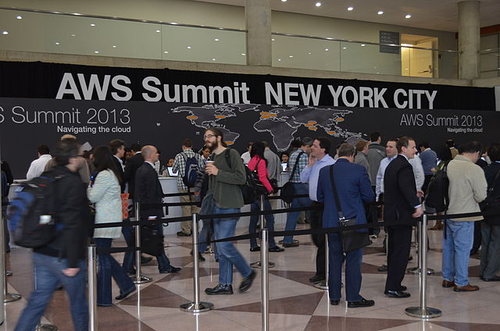 ---
Keep up with the latest enterprise cloud news and insights. Sign up for the weekly Enterprise Cloud News newsletter.
---
The decline in Amazon's profitability ended CEO Jeff Bezos's brief run as the wealthiest person in the world. For several hours, Bezos grabbed that position from Bill Gates, but the decline in Amazon's fortunes means Gates rose to the top again.
AWS is the far-and-away leader in public cloud market share. Although Microsoft, Google, IBM, Alibaba and Oracle all grew much faster than Amazon in the first quarter, AWS still controls 33% of the public cloud market, bigger than all those other players combined, according to a report from Synergy Research Group. (See AWS Public Cloud Dominance Continues – Report.)
Amazon announced in June that it plans to buy Whole Foods for $13.7 billion, incidentally stealing away a marquee customer from AWS rival Microsoft. (See Amazon Steals Big Microsoft Customer With Whole Foods Purchase.)
Overall, Amazon reported second-quarter sales of $38 billion on Thursday, up 25% year-over-year. However, net income was down significantly -- $197 million, or $0.40 per diluted share, compared with the year-ago quarter net income of $857 million, or $1.78 per share. Amazon attributed the decline to increased internal investments in infrastructure and hiring.
Amazon's earnings missed estimates, as analysts surveyed by Bloomberg expected $1.42 per share on revenue of $37.2 billion. Amazon traded at $1,014 after hours, down 3.06%.
Related posts:
— Mitch Wagner
Editor, Enterprise Cloud News