Apple to Build $1B Austin Campus & $10B Nationwide Data Center Expansion
Apple plans to build a $1 billion campus in Austin, part of a nationwide expansion that includes a five-year, $10 billion data center investment.
In addition to the Austin facilities, Apple Inc. (Nasdaq: AAPL) said Thursday that it plans new sites in Seattle, San Diego and Culver City, with expanded presence in cities across the US, including Pittsburgh; New York; and Boulder, Colo. Expansion plans span three years, with possibly more to come.
"The announcement caps a year of continued job creation," Apple says. The company added 6,000 jobs to its US workforce this year and now employees 90,000 people in all 50 states. Apple plans to create 20,000 US jobs by 2023.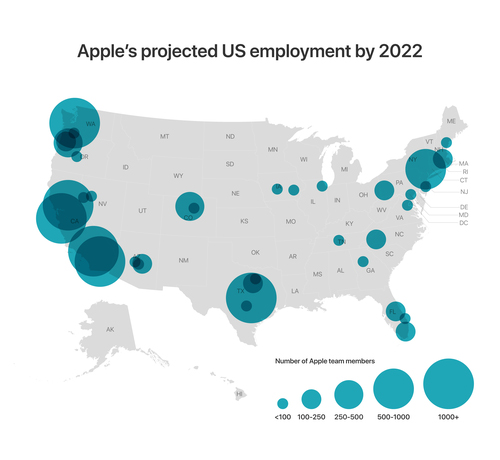 In Austin, the 133-acre campus will initially accommodate 5,000 additional employees, with capacity to grow to 15,000, making Apple the largest private employer in Austin. Job functions at the new campus include engineering, R&D, finance, sales and customer support.
Austin is already the largest population of Apple employees outside Cupertino, the company says.
The national expansion will include growth to more than 1,000 employees each in Seattle, San Diego and Culver City, with hundreds of new jobs in Pittsburgh; New York; Boulder; Boston; and Portland, Ore. Apple says it recently opened its newest office in Nashville, Tenn., and its Miami office is projected to double in size.
The $10 billion data center expansion includes $4.5 billion this year and next, Apple says. Data centers in North Carolina, Arizona and Nevada are currently expanding, and in Iowa, preparations are underway for the company's newest data center.
Apple is getting a $25 million grant from the state of Texas, and likely receiving tens of millions of dollars in local property tax abatements, according to Axios.
Apple's expansion comes as its smartphone sales flatten, even as the price Apple charges for phones goes up. Apple recently announced it will no longer report phone unit sales, a change in financial reporting that has proven unpopular. Apple's stock price plunged afterward. (See Apple's Planned Cover-Up Meets Backlash and Apple Reports $62.8B Q4 Revenue, Up 20%.)
It's not just Apple; smartphone sales are flattening industry-wide. The industry may have simply matured, with less incentive for people to upgrade as this year's phones represent only incremental improvements over previous models.
Apple is increasingly focused on services, such as music, the App Store and iCloud.
Apple's announcement follows Amazon's deciding last month to build new headquarters in New York City and northern Virginia, as well as a shipping center in Tennessee. Amazon says it will invest $5 billion and create more than 50,000 jobs. (See Amazon Selects NYC & Northern Virginia for New HQ.)
Amazon will benefit from more than $2.4 billion in incentives from the three states, which has proven controversial with taxpayers who say they don't want to subsidize one of the most prosperous US companies.
Related posts:

— Mitch Wagner



Executive Editor, Light Reading
PARTNER PERSPECTIVES
- content from our sponsors