Amazon's Cloud Business Grows 46%, Reaching a $26B Annual Run Rate

Comment (0)
Amazon Web Services sales grew to about $6.7 billion in its most recent quarter, up 46% year-over-year. That's enviable, sure, but slower than the unit has grown in the preceding three quarters.
Net sales for Amazon Web Services Inc. for the trailing 12 months was $23.3 billion, and operating income for AWS was $2.077 billion, up 77% year-over-year for the third quarter ending Sept. 30, reported Thursday afternoon.
Amazon -- the largest cloud provider by a long shot -- shrugged off its slowing cloud growth as a rate that will fluctuate. While sequential growth is down slightly, it's still strong, the company said on an earnings call with analysts Thursday. The annualized run rate is now $26 billion, up from $18 billion a year ago.
AWS benefited from cost-cutting measures, with an operating margin of 31% this quarter. That reflects improved efficiencies in AWS's data centers. The improved efficiency benefits both AWS and Amazon's company's consumer business, which is AWS's biggest customer. Capital leases, where the company spends for data centers, are up only 9% year-over-year for the trailing 12 months, compared with 69% at the end of last year, the company reported on its earnings call.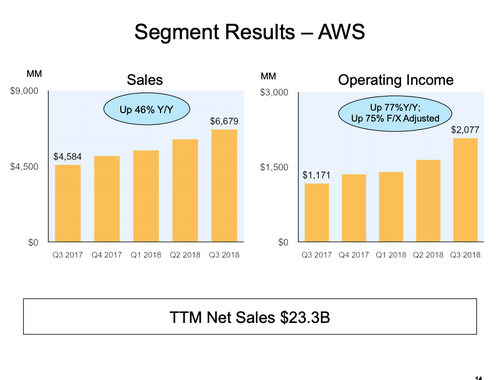 ---
Now entering its fifth year, the 2020 Vision Executive Summit is an exclusive meeting of global CSP executives focused on navigating the disruptive forces at work in telecom today. Join us in Lisbon on December 4-6 to meet with fellow experts as we define the future of next-gen communications and how to make it profitable.
---
Much of the discussion on Thursday afternoon's earnings call with financial analysts focused on Amazon's retail and other business. Overall, Amazon reported sales of $56.6 billion up 29% year-over-year. But Amazon failed to hit analyst estimates for revenue and fourth-quarter guidance. (See Amazon Quarterly Sales up 29% to $56.6B.)
Microsoft Corp. (Nasdaq: MSFT), the second-ranked cloud provider, trails Amazon by a distance. It reported a record-setting quarter on Wednesday, with $29.1 billion in revenue, up 19% year-over-year. (See Microsoft Relishes Record Quarter, but Cloud Growth Slows.)
Third-ranked Google reported $33.7 billion revenue overall on Thursday, up 21%, with strong investment in cloud and other services. (See Google: Cloud Computing Is Still a Prime Investment Target.)
IBM Corp. (NYSE: IBM) saw 20% growth in cloud revenue for the most recent quarter, to $19 billion, in results reported this month. (See IBM Is Losing the Cloud Race.)
Amazon had 34% of the cloud market as of the summer, more than the next three competitors combined. But Amazon's growth has been nearly flat, while Microsoft, Google and Alibaba far surpassing the overall market growth rate, according to a Synergy Research report. (See Amazon Still Dominates Cloud Market, Bigger Than Next Four Competitors Combined.)
Related posts:
— Mitch Wagner




Executive Editor, Light Reading
PARTNER PERSPECTIVES
- content from our sponsors
GUEST PERSPECTIVES
- curated contributions