Amazon is clobbering the competition in the public IaaS and PaaS markets, but Microsoft and Google are growing faster. And IBM is the leader in managed private cloud, according to Synergy Research Group.
Amazon Web Services Inc. still has 45% share of the worldwide public IaaS market, despite Microsoft Corp. (Nasdaq: MSFT) and Google (Nasdaq: GOOG) having much higher growth rates, according to a press release from Synergy Research Group Inc. this week. AWS is more than twice the size of the next three public IaaS providers combined.
Amazon also leads in the public PaaS market, over Salesforce.com Inc. , Microsoft and IBM Corp. (NYSE: IBM), though competition is tighter for PaaS than IaaS, Synergy says.
IBM is market leader in managed private cloud, followed by Amazon, Rackspace and NTT, Synergy says.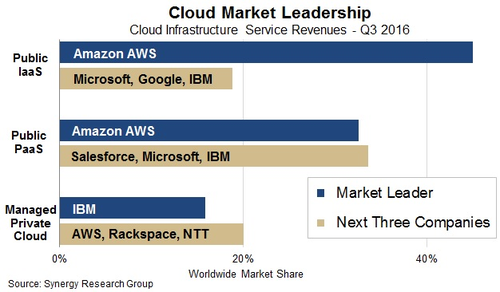 For IBM, cloud is an important part of what it calls "strategic imperatives" -- forward-looking technologies that IBM is relying on to drive future growth, even as slowing sales and revenues of IBM's legacy technologies drag the company down. Other strategic imperatives include analytics, mobile and security. Cloud revenue was $3.4 billion for IBM in the quarter ending Sept. 30, up 44% year-over-year. Overall revenue for IBM was $19.23 billion, down 0.3 percent year-over-year. (See Cloud Rises But Overall Revenue Down for IBM.)
For NTT's part, this month it announced a deal with Mirantis Inc. to use OpenStack to extend the NTT Enterprise Cloud into private OpenStack as a Service. (See NTT Taps Mirantis OpenStack for Private Cloud.)
---
Are you a service provider executive who wants to learn more about the impact of web-scale competition on the communications sector? Join us for Light Reading's third annual 2020 Vision Executive Summit taking place in Rome, December 6-8. Contact our events team to find out if you qualify for a VIP pass.
---
Well more than half the worldwide cloud market is controlled by the four big cloud providers -- Amazon, Microsoft, IBM and Google -- and they are growing their market share, Synergy says.
Quarterly cloud infrastructure revenues are well over $8 billion for Q3, and are growing at 50% per year, including public IaaS, public PaaS and managed private cloud. Public IaaS is the biggest of the three main cloud segments, but public PaaS is growing much more strongly, with database, IoT and analytics all growing by 100% or more per year.
Scale is the reason why Amazon, Microsoft and Google lead the pack, investing "huge amounts in their hyperscale data center infrastructure," John Dinsdale, chief analyst and research director at Synergy Research Group, said in a statement. Some second-tier players are also seeing particularly strong growth, including Alibaba, particularly in IaaS, and Oracle in PaaS.
Related posts:
— Mitch Wagner,
, Editor, Light Reading Enterprise Cloud