4 Fantastic OpenStack Lessons From Yahoo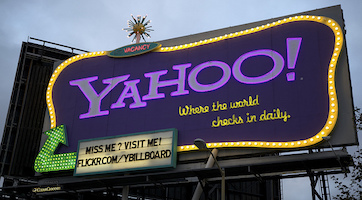 (31) |




Re: Nice to see Yahoo is so open about its experience...

> AOL admittedly had a built-in expiration date because it relied on dialup technology

This seems like a dubious proposition to me, considering EarthLink (now Windstream) -- among many other providers -- was based on dialup, and has managed to pivot quite well into cutting-edge techs like SDWAN.

Re: Verizon effect

It will probably not see the resurrection that Apple saw but some of its tech may live on.

Re: Verizon effect

The same could have been said for AOL and it's still sorta alive and kicking. Yahoo isn't dead yet. But it's close, it's like Apple in 1997.

Re: Verizon effect

I don't see a new life for Yahoo. So much has gone wrong for them over the years, I don't see how they could recover. The brand has suffered much.

Re: Verizon effect



I am sure they anticipated the dud technology when they priced the acquisition some of it was tech based some of it was just for the access to base they had acquired. Time will be the test of how it plays out in the marketplace and if they synergy is achieved.

Re: Verizon effect

@Scott: About Verizon using OpenStack, this is from their website:

http://www.verizon.com/about/news/verizon-launches-industry-leading-large-openstack-nfv-deployment

"Verizon has completed the industry's largest known Network Function Virtualization OpenStack cloud deployment across five of its U.S. data centers."





Re: Verizon effect

"is the cloud industry already too cluttered for yet another cloud service the size of Yahoo"

It may be cluttered but I don't know if it is TOO cluttered for yet another cloud service. Aren't these the salad days for the industry? That is, isn't the market still unsaturated, and still (fairly) new?

Re: Verizon effect

I'm sure some Yahoo properties will die. Yahoo!'s streaming media efforts are already dying or dead. I think Katie Couric has moved on. Community had a rabid fan base that just didn't follow the show to Yahoo!'s streaming video site which was slow and laggy and required an annoying app download.

Re: Verizon effect

They might if there is a buyer but some properties may just die a natural technology death because the market competitors are stronger and better positioned time will tell.

Re: Verizon effect

I think Verizon will try to sell off Yahoo!'s properties like Flickr that don't quite fit with Verizon's other brands and services. Maybe Tumnlr will survive alongside AOL's media blogs in some way to prove Oath's ad network for attracting eyeballs and getting engagement.