ThinkPad at 25: Looking Back at an Icon
Before the cloud, artificial intelligence, big data and even the smartphone, there was the personal computer -- still the most basic of all enterprise IT.
One of the most iconic of all PCs is the ThinkPad. First developed by IBM 25 years ago as a portable PC, the brand is now manufactured by Lenovo, which bought Big Blue's PC division in 2005.
While the ten-year anniversary of the iPhone looms this month, the ThinkPad is marking its silver anniversary as well, and at Lenovo's recent Transform show at the Metropoitian Pavillion in New York City, the company brought out several vintage models dating back to the original design that went on sale in 1992. (See Lenovo Eyes Bigger Roles in Cloud, Data Center.)
Originally designed by Richard Sapper for IBM, the ThinkPad laptop has, for the most part, kept its simple, square, black design, although it has gotten thinner and more lightweight over the years as components have shrunk and storage, first in hard disk drives and later solid state drives, have moved to the cloud. The latest models allow for detachable screens that carry on as tablets.
Still considered one of the reliable business laptops, the ThinkPad has been to space, and its design is iconic enough that the machine is also considered a museum piece -- a work of art.
Let us now travel back to the halcyon days of 1992, when IT computing was just getting started, and see how the ThinkPad has withstood the test of time. If you have any fond memories of a particular ThinkPad, let us know in the comments section below.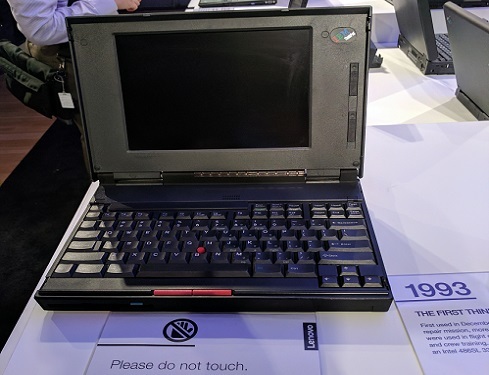 (All images by Scott Ferguson for Enterprise Cloud News)
PARTNER PERSPECTIVES
- content from our sponsors