SugarCRM is going cloud-first, updating its cloud CRM service more rapidly than on-premises software.
The change, which SugarCRM plans to announced Wednesday, is part of the company's fall 2017 update cycle that includes several new features including shareable dashboards, drill-through charts and a new and improved email module.
Although SugarCRM plans to update its Sugar On-Demand cloud products more often -- this includes quarterly feature updates to the platform, as well as more frequent security patches and minor product adjustments -- the company also plans to continue supporting its traditional, on-premises CRM products into the foreseeable future.
However, the on-premises version will now be updated once annually. The next major update for the on-premises product will be Sugar 8, which is slated for release in the spring of 2018.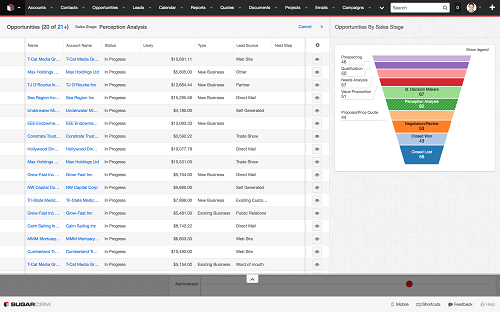 "This is part of our company strategy -- to be a very cloud-centric company," Rich Green, the chief product officer and CTO of SugarCRM, told Enterprise Cloud News before the October 25 announcement. "We have offered a cloud solutions for years, but a real cloud company is focusing on very rapid cycles of innovation and bringing new capabilities to the market as quickly as they are available. And the fall 2017 release is an example of that."
When it comes to SugarCRM, Green said there are two types of customers: One is an enterprise that look for long-term stability and remains concerned about regulatory and compliance issues, especially where the data is stored. The other customer wants the latest and greatest as soon as its available.
The more regulated customers are keeping the on-premises version of the SugarCRM product and the other is drifting into the cloud.
Right now, SugarCRM is split among on-premises and cloud customers in terms of the number of seats sold. However, Green said more and more are moving to the cloud, even highly regulated enterprises in the financial markets.
"There is a skewing to cloud over time," Green said. "Our strategy is that we want to enable that skewing because that's just the way technology and the industry is going, but we want to do it as a carrot not a stick."
As with any enterprise that is looking to deliver applications faster to customers -- as well as update those apps more frequently -- Green noted that SugarCRM took a DevOps approach over the last year to prepare for the change that it's announcing this week.
---
Keep up with the latest enterprise cloud news and insights. Sign up for the weekly Enterprise Cloud News newsletter.
---
"It's been a systemic change over the last year to get to this model, and the good news for our developers, our project managers, our UX people, and our testers, is that they are welcoming it because it allows them to get their new ideas and features into the customers' hands far more quickly," Green said.
In addition to changing its update schedule, SugarCRM is rolling out several new features on Wednesday, including:
Shareable dashboards, which offer visual representations of CRM data in real time, as well as data diced into segments, including leads, opportunities and sales accounts. These can be shared with different parts of the sales team. Administrators can also set up different dashboards for different groups.

Drill-through charts, which offers users a better understanding of the numbers and data that they are looking at, without having to create an additional report.

Lastly, the company is offering a module for email that helps organize emails by different accounts and different contacts, making it easier to search and archive.
Before the Wednesday announcement, SugarCRM, which competes with Microsoft and Salesforce, has previously updated Hint, an artificial intelligence tools that can help salespeople generate leads, as well as helping to automate some of the sales process. The new version scans news articles for company updates, and can determine if any changes can lead to sales opportunities.
Related posts:
— Scott Ferguson, Editor, Enterprise Cloud News. Follow him on Twitter @sferguson_LR.