ORLANDO, Fla. -- Gartner Symposium & ITxpo -- When Marc Benioff helped found Salesforce nearly 20 years ago, the company was the up-and-coming startup looking to disrupt the software business.
Now, with over $10 billion in revenue and 30,000 employees, Salesforce is part of the IT establishment. Can the disruptor be disrupted itself? Yes it can, and that's fine with Benioff.
"I hope one day that we are, and if we weren't that would be a sad world," Benioff said during an on-stage interview with Gartner analysts Yefim V. Natis and Michael Maoz. He added:
Is technology getting to a lower cost and easier to use every single day: every moment of every day? At current present moment of reality, technology is getting lower cost and easier to use. The very technologies we're talking about in this conference, many did not even exist just a few years ago, or even a few weeks ago. Everything we wrote in our software 18 years ago is obsolete. Everything we wrote ten years ago is obsolete in our code. Everything we wrote five years ago is obsolete... Speed is more important than ever.
While disruption doesn't seem to concern Benioff, he did note that it's the trust between Salesforce customers and the company that is the real concern. Without that trust, there's no growth.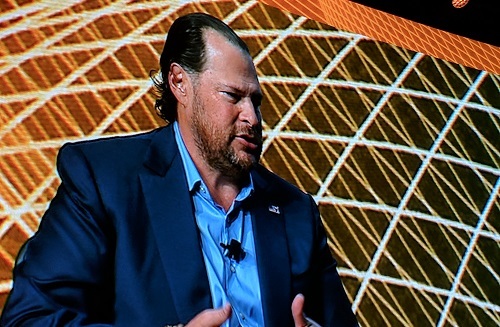 "This is what we think about every day. This is what our business plans look at: Do we have trust," Benioff said.
The one surefire way to deal with disruption is through innovation. In Benioff's case, he uses the term "a beginner's mind": A sort of meditative state that allows him to think deeply about different problems.
It's innovation, Benioff said, that's driving the whole industry.
"We have to continue to innovate -- new ideas, innovation -- whether that's organic innovation or we acquire companies to get innovation and bring those in," Benioff said. "I don't think anything can protect you from disruption. This is the tech industry. Why are we all here? Because it's all the same as it was 20 years ago? We wouldn't have to come here.
While Salesforce was a leader in creating software-as-a-service (SaaS), as well as cloud services in general, the company is also learning to deal with the cloud in other ways.
An example is Amazon Web Services. (See AWS's Andy Jassy: No One Thought We'd Grow This Quickly.)
When Salesforce was looking to move into Canada, Benioff and his team thought about building their own propriety data center, but then decided to integrate with AWS to deliver it services to Canadian customers.
"We have successfully deployed Salesforce in Canada on AWS," Benioff said. "It really speak to the quality of Salesforce that we were able to actually run our platform anywhere. We have the ability -- the way we have written our code -- to run our platform on propriety data centers, on AWS, or other platforms as well, including Google."
Benioff also spoke about coming technologies that are destined to change things. One of the major ones he noted was artificial intelligence, which the company has been adding into its products, including a new financial service for banking released Wednesday. (See Salesforce Financial Services Cloud Cashing In on Retail Banking.)
---
Keep up with the latest enterprise cloud news and insights. Sign up for the weekly Enterprise Cloud News newsletter.
---
While AI is disrupting non-tech and tech companies alike, Benioff noted the real worrying aspect about the technology is that students have the educational background to work with it. One of Benioff's passion is public education, and he noted he was trying to get that message out to K-12 schools.
"Technology is not good or bad, but we can see a world where technology could create a lot more inequality," Benioff said, adding:
We know artificial intelligence is going to make me wiser, make me smarter, make me wealthier, make me healthier... and if we are going to pivot we need to talk about public education. Especially in the United States, nothing is more important than our public schools. Noting is more important than our K-12 schools. If our kids are not ready for the future, if they are not ready for this economy with AI, we are not going to have the levels of equality that we want.
Related posts:
— Scott Ferguson, Editor, Enterprise Cloud News. Follow him on Twitter @sferguson_LR.