Salesforce Service Cloud Gets Personal
With consumers of all types looking for a more personal experience, Salesforce is updating its Service Cloud platform to allow enterprises to quickly build these types of intimate responses that address customer needs.
Because enterprises are judged on the type of consumer experience they offer, it's critical for companies to connect to their customers, and allow their service reps a degree of freedom to build these personalized experiences into service desk platforms they work with each day, said Keith Pearce, vice president of marketing for Salesforce Service Cloud.
In order to allow sales reps this degree of freedom, Salesforce worked on creating a more agile platform to allow for faster application development and deployment, the productivity tools needed to create this layer of specialization, as well as the mobile experience to connect with consumers.
The point is to deliver a personalized experience to the consumer faster without having to necessarily wait for the IT department of a team of developers to tweak the platform to address consumer needs that change fast.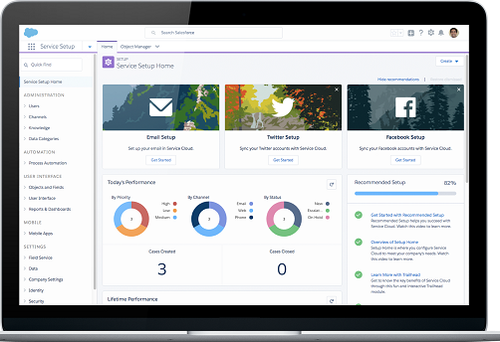 "The audience that our customers serve -- their customers -- is changing, and the consumer expectations are just skyrocketing around service experiences with connected products in the home, in the office, in the car or on your wrist, and these create these really personalized experiences," Pearce told Enterprise Cloud News.
What makes this complicated is that when it comes to the customer experience, banks don't compete against other banks anymore, Pearce said. Instead, a bank competes against the last customer experience a person has, whether that's with a retail chain, online shopping, an airline, a car dealership or something else.
"If your competition is the last service impression, you have got to be much faster to market," Pearce said.
To address this, Salesforce is adding four features to Service Cloud:
The first is Service Out-of-the-Box, which allows an enterprise to build its service center from Salesforce in one day. This feature streamlines setup, allowing the IT department, or even the a service rep, to build the platform without coding. It also allows the call center and service reps to connect to consumers through email, Facebook or Twitter, and build those feeds in the platform.
The second is the Lightning App Builder, a tool that allows reps to drag-and-drop new features into the platform as needed.
The third is the Lightning Service Console, which provides a unified desktop interface for customer reps. This not only provides dashboards, but can call up a customer's history, as well as offer federated search for internal and external documents.
And finally, Service Cloud Mobile, which works with Android and iOS, and connects reps to customers, and can also connect managers and in-house field representatives to help fulfill work orders for customers.
---
Keep up with the latest enterprise cloud news and insights. Sign up for the weekly Enterprise Cloud News newsletter.
---
While Pearce said he considers all these updates important to Salesforce, it's the out-of-the-box feature that is the most intriguing, allowing enterprises to build out its customer service offering quickly, and eliminate some of the older technologies in a call center that don't help with fast, agile development.
During the course of a year, Salesforce offers a number of different updates to Service Cloud, and these tie together. In the past year, the company has offered chat and messaging features that tie customer service into social media, and an update that brought the company's Einstein artificial intelligence to the platform.
Related posts:
— Scott Ferguson, Editor, Enterprise Cloud News. Follow him on Twitter @sferguson_LR.